27
Jan 16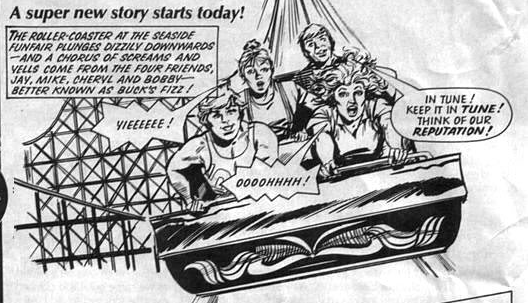 "Hi, we're Jay, Mike, Cheryl and Bobby, better known as Bucks Fizz, stars of LOOK-IN magazine – oh the mischief we got up to! Nothing risque, you understand, it's a children's paper. Of course we're also famous as the inspirations for Amaterasu, Inanna, Lucifer and Dionysus from last year's comics poll winner, The Wicked + The Divine, which we thought we'd remind you of just in case it turns up again below. Our own comics career has been a little quiet lately but between you and us I think hosting this amazing Top 12 will be just the leg-up we need for a new beginning (mamba seyra), maybe a licensed series from IDW or perhaps Boom! Studios. Move over Jem and the so-called Holograms, Bucks Fizz are back and ready to twirl!"
Thanks, Bucks Fizz! Yes, bringing the curtain down on Poll Month, it's the Comics Top 12. As usual, an asterisk means I haven't read any of it but thankfully Kat has once again stepped in to lend her webcomics expertise to the countdown.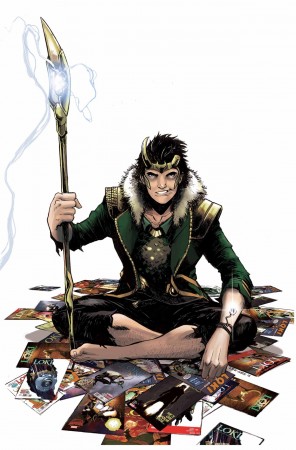 12. LOKI: AGENT OF ASGARD (Ewing/Garbett/Fabela; Marvel Comics)
Our first returnee from last year's list, Loki: Agent Of Asgard ended its run last summer, bringing the six-year saga of Loki's efforts to change to a satisfying close. Given the difficult job of coming in and writing a third act to one of the most critically and fannishly beloved of recent Marvel stories, Al Ewing (for it is he) produced his best Marvel work so far. He found a new and beautifully fitting angle on the erstwhile God of Lies and offered his own, redemptive take on the metafictional superhero – not to mention writing a great two-fisted homage to Marvel's classic Asgardian epics. Terrific stuff.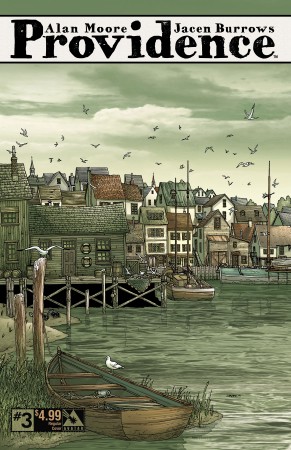 11. PROVIDENCE (Moore/Burrows/Rodriguez; Avatar Press)
In which Alan Moore applies the painstaking world-knitting techniques of his League of Ordinary Gentlemen to the HP Lovecraft canon, creating an alternative "Cthulhu mythos" focused on the grim deeds, vanities, rivalries and self-delusions of mankind as much as the cosmic horror beyond. The usual caveats and content warnings apply: Providence contains horrific sexual violence (Issue 6, to be exact). But it's also the most compelling Alan Moore comic for a long time – a slow-burn of claustrophobic, gradually advancing discomfort as his protagonist travels around New England hunting for a particular ancient book, and finding his grip on reality shaken in the process. Providence is steeped in Lovecraftiana, but Moore is an old and wise enough hand to make sure you don't strictly need to recognise any of the source material. Meanwhile Jacen Burrows' clear lines and patient, fixed-camera storytelling put him in the long list of Moore collaborators who fit a given project so well you can't imagine anyone else doing it.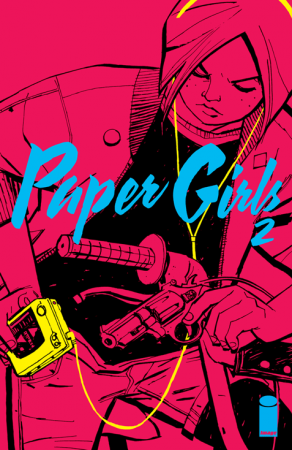 10. PAPER GIRLS (Vaughan/Chiang/Wilson; Image Comics)
Brian K Vaughan is now enough of a draw that he can sell shedloads of comics while keeping his cards very close to his chest, hookwise. Nobody knew very much about Saga before it started, and the only teaser for Paper Girls was "4 girls delivering papers in 1986". Of course there's more to it than that – the first issue is a knockout, a perfect example of how to create smart, thrilling modern adventure comics, impeccably designed with oodles of atmosphere and pace. The comic spends fifteen or so pages proving that yes, actually, a comic just about 4 girls delivering papers in 1986 would be amazing, before sliding off somewhere else entirely. One of the best first issues I read all year, and, Vaughan being Vaughan, a wonderful cliffhanger. (Another two came out after it, but I've saved them up.)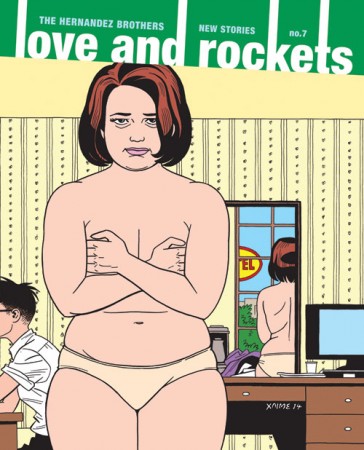 9. LOVE AND ROCKETS NEW STORIES* (Los Bros Hernandez; Fantagraphics)
I'm horribly behind – like, years – on Love And Rockets, thanks partly to finding it difficult to figure out the myriad of graphic novels and what I have to buy to not duplicate things. But I know that while Beto has spun off into more self-contained work, Jaime Hernandez continues to focus on the life of Maggie Chascarillo, and that the 7th edition of New Stories, from 2015, features a reunion with former best friend and lover Hopey. There is absolutely no reason for me to doubt that this comic is magnificent.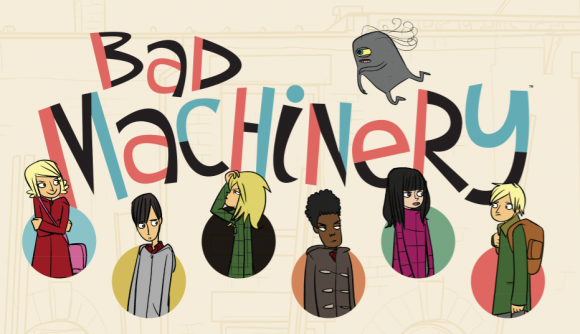 8. BAD MACHINERY* (Allison; Webcomic/Self-Published)
Never read it, so let Kat fill you in:
"John Allison vaguely threatened that 2014's The Case of the Modern Men would be the last Bad Machinery story, and attempted to fob everyone off with a (slightly unsatisfying) spin-off, Space Is The Place. Thankfully the Tackleford gang returned last summer for The Case of the Missing Piece, a story reflecting both the teenagers' journey into a world of adult problems (money, snogging, realising your parents can make mistakes), and their dwindling interest in the supernatural phenomena of their past cases. The kids are slowly swapping their talking beasts for lipstick and nylons! But while there may not be any selkies or emo ghosts about, the dialogue is as sharp as ever: Charlotte Grote is the only comics character I'd like to regularly hang out with in a Wetherspoons."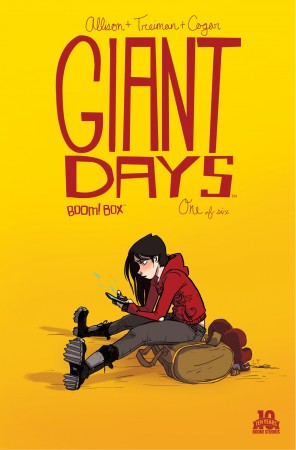 7. GIANT DAYS (Allison/Treiman/Cogar; Boom! Studios)
But wait, there's more! Giant Days, a regular print comic (tho also available in digital, obviously), finds Bad Machinery's John Allison writing about university, not secondary-school, life, and working with an artistic collaborator, Lissa Treiman. Treiman combines a breezy, cartoony style reminiscent of other Boom! comics with a gift for expressive faces that reminds me a bit of Posy Simmons. A feelgood comic, stuffed with funny moments and good lines, Giant Days captures the enthusiasm of going to University and a little of the awkwardness too.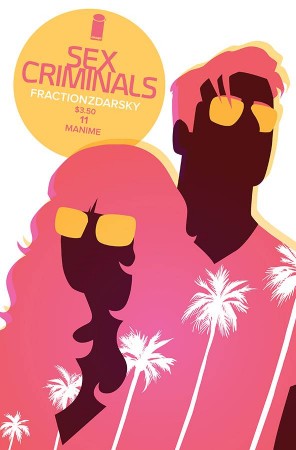 6. SEX CRIMINALS (Fracton/Zdarsky; Image Comics)
The premise of Sex Criminals – in our top 10 for a second year running – is so weird that it was terribly hard to guess what stories the comic might tell. Two and a bit arcs in, with Susie and John tracking down a wild and wonderful supporting cast of sexual time-stoppers, and we know. Sex Criminals is many things, but one of them is a comic about self-fulfilment: accepting, communicating and being true to your desires. Sex is just the start. That's struck a chord among a huge fan community, whose engagement Matt Fraction and Chip Zdarsky seem to thrive on as they have more and more fun creating a paratextual world alongside the comic. (Climaxing in a separate 'sex tips' book spin-off).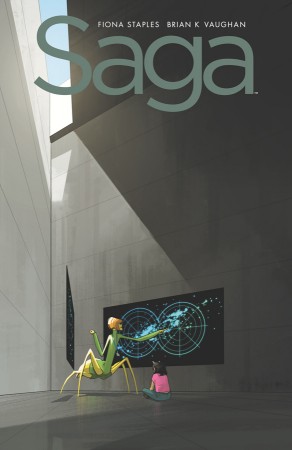 5. SAGA (Vaughan/Staples; Image Comics)
A top 5 fixture this year and last, Saga remains quite hard to summarise and very easy to enjoy. It's managed the trick of folding in time jumps, location shifts and big cast changes without losing interest and affection. Its tone remains wholly its own – amazing to think it was solicited initially as being "Star Wars meets Game of Thrones", when it feels nothing whatsoever like either of them. It's as earthy, melodramatic and funny as ever. And while we're starting to see distinctively post-Saga comics show up, none of them work nearly as well. Long may it ramble on.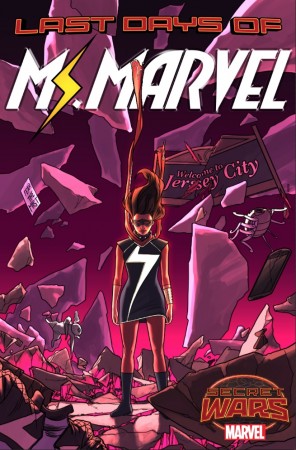 4. MS MARVEL (Wilson/Alphona/Miyazawa; Image Comics)
Last year Ms Marvel (#2 in the 2014 poll) was an Important Comic. This year, with its legacy visible all over the Marvel line and with Kamala Khan a breakout character in the new Avengers line-up, it could relax into just being a good one, consolidating its virtues (Wilson's gently humorous characterisation; Alphona's deliciously fluid and goofy art) and building its loyal audience. Of course, it's still an important comic – in a culture as fearful and prejudiced as ours right now, how could it not be? But it respects its audience and its characters too much to act like one.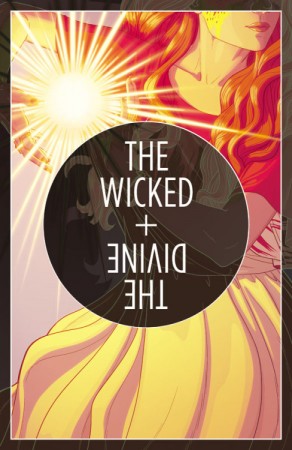 3. THE WICKED + THE DIVINE (Gillen/McKelvie/Various/Wilson; Image Comics)
There was a 34-point gap between #4 and #3, and then only 8 points across the top three – another very tight poll. Still, when things were added up, last year's winner slips down to third. For me, 2015 was the year WicDiv really got going, both in terms of starting to play its bigger plot cards and in the inspired "Commercial Suicide" arc, with five guest-artists (and a screwed'n'chopped Jamie McKelvie) deepening the characters and the WicDiv world. From Kate Brown's Inanna to Brandon Graham's Sakhmet, the guests made the arc into a perfectly sequenced compilation LP, while Kieron Gillen's story started to dig away at issues of complicity and responsibility. The series looks headed to uncomfortable places – I can't wait. (Though I'll have to, until April.)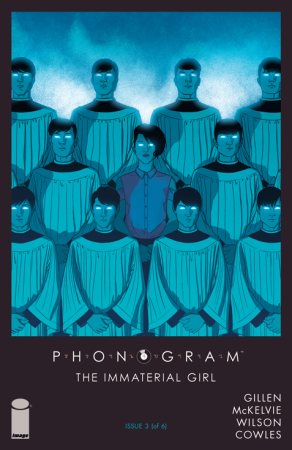 2. PHONOGRAM: THE IMMATERIAL GIRL (Gillen/McKelvie/Wilson; Image Comics)
Who would have thought that a story about music fans hitting 30 in the 00s and re-evaluating their lives would be so popular on a website run by music fans who hit 30 in the 00s and etc etc. Luckily Phonogram III is not only brilliant because it is about us (in the general sense, though we know half the people in it too). It strikes the perfect Phonogram balance between music and magic, and more importantly between rampant elitism and broad-brush sentiment. It's a bit like pop music. Or being into pop music. Or being into indie music then deciding pop music had it right all along. Or… well, anyway. Some of Kieron Gillen and Jamie McKelvie's best ever work is in here, too – McKelvie's capture of the subtle ways people age in their 20s and early 30s is particularly fine. I remember finishing Volume 2 and thinking "Great comic, but these characters are a pack of arseholes." They turned out OK in the end, bless them.
But ultimately the future must belong to the young. The bright-eyed. The bushy-tailed.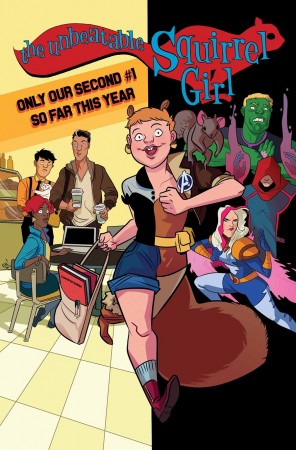 1. THE UNBEATABLE SQUIRREL GIRL (North/Henderson/Renzi; Marvel Comics)
Squirrel Girl! Squirrel Girl! Squirrel Girl you are the Queen of our world! I wrote about the first volume of USG on Goodreads and I feel it sums things up (People even 'liked' the review. People I did not know!) Here it is:
Comedy superhero comics have usually rested on the assumption that there is something rather silly about superheroes, and you can get a good laugh by laying bare what it is. It works, because these assumptions are true. But superheroes are also awesome, so there is a lot of room for a superhero comedy which takes THAT as its starting point.
The Unbeatable Squirrel Girl is that comic. As the title suggests, there is no confrontation Squirrel Girl cannot win, and the joy is in seeing her do it. Of course, these are the narrative conventions that underpin basically every Marvel or DC title: this one just lays them out upfront and gets on with having fun and treating the Marvel Universe like a playground full of hilarious toys. It's a perfect vehicle for Ryan North's joie de vivre and his typically stylised dialogue – Doreen Green's voice in the comic is a perfect blend of fourth-wall breaking and the real self-consciousness of a clever 18-year-old.
Some readers hate this – Squirrel Girl is a lightning rod for disgruntled fans who feel Marvel is becoming stupid or childish and pandering to a new audience of hipsters or – gasp! – girls. In fact it's one of the most grown-up comics Marvel has published for years. Doreen Green in this series is a superhero who mainly solves problems the way they are ideally solved in the real world – negotiation leading to a mutually acceptable compromise solution. Nothing juvenile about that, even if she does it with a squirrel sidekick and occasionally clad in living squirrel body armour. Erica Henderson's effervescent art is a great fit too, full of joy, energy, and a complete lack of regard for the narrow range of faces and bodies you normally see in a superhero comic.
Most of all, though, it's very funny, and as generous as it's entertaining. Big-hearted superhero romps by a team who understand that punching is the least interesting part of superheroics, and the best comic Marvel's publishing right now. PS: Galactus is so right about Thanos.
OK that's the end until next year. Thanks to all our voters, to Kat for dropping webcomic science, and to the people who make the awesome comics we love. In the comments I'll list the other stuff that got a vote – lots of it.
Comments
Add your comment
Top of page