16
Dec 14
Yes, it's the most wonderful time of the year, it's FTBCANYPC time!
This year for our 15th crawl we will be having a little saunter around Kentish Town. or at least down the hill from Gospel Oak to Kentish Town West, taking in Vines, pineapples and Tapping An Admiral or two…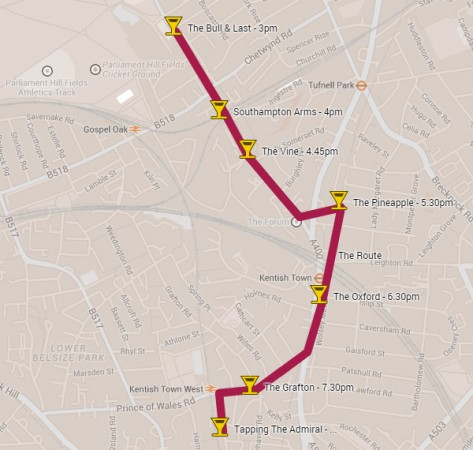 Every year, on the 29th (except when it wasn't) we go an a merry trail around a list of pubs, many of which may be closed, to appreciate the architecture, and, you know, maybe drink. This year's route takes us from the foot of Parliament Hill to the heart of Kentish Town in our bid to never actually do a crawl in Camden.
The Route is as follows:
3pm Bull and Last (why not get a scotch egg?)
4pm The Southampton Arms
4.45pm The Vine
5.30pm The Pineapple
6.30pm The Oxford
7.30pm The Grafton
8.30pm Tapping The Admiral
There is a Handy Google Map here: https://www.google.com/maps/d/edit?mid=zYR9Ng15Ymbs.kfOdKF4nYYvI
Look forward to seeing you!
Add your comment
Top of page