1
Jul 10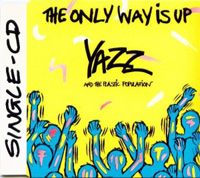 It may have come out in time to lord it over the charts during the Second Summer of Love; it may have a production credit for Coldcut – but there's nothing outrageously radical about "The Only Way Is Up". It's the fifth cover version to get to number one in 1988, and nobody who'd heard "Don't Leave Me This Way" then this would feel the ground of pop had shifted dramatically.
If there's something new here it's in the record's self-assurance, the way it acts like that ground has indeed moved. Even that might be a trick of hindsight – The Communards sound to me more subcultural than they were, because the hi-NRG music they're drawing from never broke as big as house. Whereas Yazz And The Plastic Population are working within what has turned out to be the basic grammar of dance-pop for most of the next two decades: uplifting lyric, house rhythm, big diva voice up front. So from the moment "Only Way" announces itself – with that glorious express train horn sample – it makes everything else sound like it's trying too hard. Don't worry about that stuff, it says, this is what pop music sounds like now – and it's only going to get better.
This effortless quality meant I soon felt "The Only Way Is Up" had been around forever, and people talked up Yazz as a natural star. Ever since it's been a record I take for granted rather – I never had to work at liking it and perhaps for that reason I never loved it. This despite its excellent qualities – Yazz herself is a good deal more subtle than a lot of the house divas to come, and her warm, chuckling performance helps the song evolve from one about hope in the middle of desperate poverty to a more generalised having-it-large deal. (You could take this as a criticism, I admit, but Coldcut and Yazz are pragmatists: that chorus is too enormous simply to use on social concern!) What I like most is also what dates the record most: the bustle of the production, that excitable rhythm-and-sample chatter from S'Express still bubbling away under the more structured song.
7
Comments
«
1
2
All
«
1
2
All
Add your comment
Top of page