6
Apr 10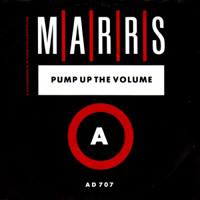 "Kept the hooks flying so fast that it sounded like a pop radio hit"
This entry is constructed around 'samples' of other people's blog posts or writings mentioning "Pump Up The Volume". Even saying that feels absurd and a little pompous – they're just links, right? In the way that samples now are just… samples. If you listen to 21st century pop you experience them as content, not as process, with the occasional exception – Girl Talk for instance. But "Pump Up The Volume" got at least some of its power from the sample-as-process, the surprise and delight of cut ups, that videogame sense of micro-events coming at you in random attack formations.
"Colourbox was the band with the drum machines and samples while A R Kane were the shoegazers, but the more I listened to [A R Kane]'s records… it makes me wonder what Colourbox contributed!"
Actually "Pump Up The Volume"'s pace isn't particularly fast – the track feels roomy, a sandbox of possibilities bounded by that loping bassline. It's nice to imagine that this is down to AR Kane's interest in dub, though the participants have suggested the 'collaboration' was fractious and the dreampop band's contribution to the hit side of this double-A came down to little more than guitar overdubs. Whatever the inspiration, it means "Pump Up The Volume" has aged more gracefully than some of the spatchcocked sampladelia that followed it – though I love almost all its imitator records too.
Also, those slices of echoing guitar are the ingredient that gives this single its enduring strangeness – alien noises cutting across the hip-hop and funk sources "Pump" mostly draws on: as a proportion of the record they're minor, but they're also what makes it special.
"some people were yearning for acid house before it was invented, almost willing it into being"
Like "Jack Your Body", "Pump Up The Volume" was another step towards club culture's takeover of UK pop. But while "JYB" was an unexpected shot of purism in the compromised land of the top 10, "Volume" is a wild hybrid, made by intrigued outsiders. Which makes its success even odder – imagine the Dirty Projectors' "Stillness Is The Move" getting to #1, maybe? The record is as much hip-hop as house – it owes more to Grandmaster Flash and Steinski than to Chicago musicians, and I'd guess hit bigger as a pop event than a club one.
"Ofra Haza turned out be to the Yeminite equivalent of Barbara Streisand or Celine Dion, didn't she?"
The DJ house strain of club music "Pump Up The Volume" helped birth burned itself out fairly quickly because it was incestuous in terms of sample sources and easy to parody, and because unpredictable juxtaposition isn't a consistently useful strategy on the dancefloor. But "Pump" itself chose its samples well and set them well too: the bassline working as a tour guide, and that sly top-end ripple on the drum track giving the record an intimacy where most sample workouts simply used novelty and brashness. We peep through a hidden door into a different record, hear Dunya Yunis sing, then shut it again and stroll on.
"bewilderment gave way to enthusiasm and we had a hit on our hands".
Whatever its place in the wider story of dance music, for me "Pump Up The Volume" was a moment of pop crisis. I'd overlooked or ignored "Jack Your Body" but M/A/R/R/S was more strange and striking – and I despised it. Its rejection of structure, of tune, of identification points seemed close to nihilist: this simply wasn't music as I could recognise it. This state of mind is hard to recover now – dance music and hip-hop have rewired how I hear music to the extent that it's ended up being rock I've had to re-learn how to listen to. What seemed like a destruction of everything I associated with music now seems like a blueprint for so much I enjoy about it: an equal and opposite exaggeration, perhaps, but this record is still a milestone for me.
10
Comments
«
1
2
3
4
All
«
1
2
3
4
All
Add your comment
Top of page