9
Nov 09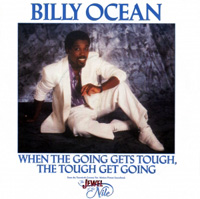 The intro to "When The Going" is one of pop's more excruciating: a piggledy pile of drum hits never resolving into a beat while Billy O huffs and puffs "Tough! Tough! T-T-Tough! Huh!", clearly with no better idea than us of what on earth this is meant to be. A nod to hip-hop? To electro? And then that rubbery bassline comes in and the song relaxes into itself, keen to move on from this regrettable misunderstanding. Though when the "Huh! huh!" stuff comes back in over the outro it still feels hugely out of place.
Apart from that, "When The Going Gets Tough" is a blaring digital take on Motown – not the last we'll meet in '86. It's big and brassy, contemporary too with a sax break that sounds like it jumped off a Huey Lewis record. But "tough"? Not a bit. This is a gentle giant, there's a pleading in Ocean's voice which quite undermines his fronting – he's bouncingly eager to please. Which makes that hoo-hah at the start even sillier, of course.
I keep coming back to the intro because I think it underlines why the track doesn't really work: Ocean's adopted home was Britain, and this is one of the eternal dilemmas of commercial British soul (later R&B) – do you play safe and please the crowd, or try and work in the latest American innovations? Do you go tough or tender? Ocean wants it both ways. In a sense it doesn't matter – Ocean has a voice that sounds good pleading, deep but somehow querulous, with a tear-struck gulping tone. But it makes "When The Going Gets Tough" seem forced, its gung-ho bluster concealing an essential half-heartedness.
5
Comments
«
1
2
All
«
1
2
All
Add your comment
Top of page