21
Oct 09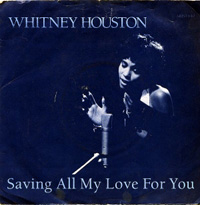 The chiming, soft-focus keyboards that open "Saving All My Love For You" suggest late-night romance, low lights and the chink of glasses. This is a bluff and a lie: "Saving" isn't a song about romance, it's a song about pain and anger, and how its singer copes with and channels those. On its – pretty obscure – original recording, by Marilyn McCoo, the arrangement is richer and McCoo sounds rueful but warm, almost good-humoured. She's calculated the angles as much as her married lover has, and knows that what she has is the least worst option: it's a compromised sort-of happiness, but it'll have to do.
"It'll have to do" is not a concept the Whitney version recognises. This "Saving" smarts with the unfairness of the situation, the shock of crushed expectations. The winsome sax-and-keys arrangements (so bland, to be honest, that their bluff goes too far and spoils the record) are a taunt for Whitney: this isn't a slow dance, it's a bad deal, and she's on the end of it. Houston isn't at her best on sweet songs – harshness and force have always been weapons available to her and on "Saving" they come out at just the right time: "To-NIGHT, Is the NIGHT. For feeling al-RIGHT." – you can almost hear the cutlery slamming down on the table as she lays it, ready for him to walk in the door. In McCoo's version, the man-and-mistress arrangement is stable. In Houston's you feel something's going to give, not tonight, no, but soon – and it won't be pretty when it happens.
It's a great performance, and an important single. Because of all the versions of pop we've seen in 1985 – good, bad, old-fashioned, cheap or ugly – this is one of the most enduring: the glamorous young soul diva with the colossal voice. It's the kind of pop stardom which turned out much later to transfer best to reality TV, but the astonishing success of Whitney and her successors means we'll see plenty of it before that. So it's good that we're meeting the style at close to its best. The schlocky arrangement of "Saving" hides a fine, moving song, and the scale of Whitney Houston's performance shouldn't obscure how much conflict and nuance she puts into it.
7
Comments
«
1
2
3
4
All
«
1
2
3
4
All
Add your comment
Top of page