21
Sep 09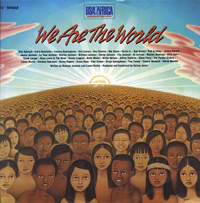 A charity record is a bargain struck between the urgency of the situation and the weight of the subject: you want to get something done quickly, but it also has to be serious enough not to seem tasteless. As gesture turned into genre, instigators would reach for readymade gravity in the form of cover versions: but initially the donation of songwriting talent was as important as that of singing time. "We Are The World", written and performed by genuine heavyweights, is the most monumental example of this.
The rushed composition of do "Do They Know It's Christmas" gave it an awkward, compelling weirdness – but Michael Jackson and Lionel Richie play things a lot safer. They had to: the Band Aid line up was a generation of new stars self-consciously coming of age together, but Quincy Jones' and Harry Belafonte's contact books were fat enough to include the really big beasts, ones who no longer appreciated being herded. "We Are The World" is carefully scripted to give each superstar a chance to sing without being hustled out by the next one – or that's the positive spin on a record which is seven minutes long and almost all chorus.
At least they get something difficult to sing – "There's a choice we're making / We're saving our own lives" makes sense in the song's explicitly religious context: because we are all human beings, by saving others we save ourselves. But the line is – to say the least! – risky when sung by extremely rich people not generally known for their unselfishness. And as it is nobody really nails it – most of the singers simply thrash about and end up in that curious register of human speech that exists only on charity records, the concerned bellow.
Obviously, we had Band Aid first, so "We Are The World" left no emotional impression on me then and none now: at the time I mostly remember parochial irritation that we had to get the American version too, and that it was so long and cumbersome. There are little touches of entertainment in the record, beyond the soon-fading Panini stickerbook fun of spotting the various voices. Dylan, of course, puts in a gruesome but at least memorable fifteen seconds (and the song shrugs him off with a monster key change). And Jackson himself gets the record's one genuinely shivery, vulnerable moment – "When you're down and out…" – singing (as he often sang) as if he had one less layer of skin than anyone else.
3
Comments
«
1
2
3
All
«
1
2
3
All
Add your comment
Top of page