11
Sep 09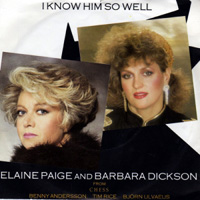 Beware of what you wish for: Benny and Bjorn had spent much of ABBA's imperial phase wanting to write a musical. They even put together a little taster, with their "Girl With The Golden Hair" trilogy at the back end of ABBA: The Album. And then, after the band drifted apart, they got their chance – Chess, with lyrics by Tim Rice, about a cold war clash of grandmasters and a romantic tangle: very ABBA, somehow. The themes were right, the collaboration was right – surely it would be a triumph?
Alas, no. I have fond memories of Chess because we took my Dad to see it for a birthday treat and it was the first time I'd ever seen a big West End musical. But beyond this and fellow single "One Night In Bangkok", not one of the tunes made an impression. I'd be intrigued to go back and listen again now, but my feeling is that Andersson and Ulvaeus choked.
"I Know Him So Well" seems to bear this out. It's ponderous, a good few beats too slow. It's ugly – from the moment that hideous guitar tone scrapes past on the opening verse you know you're in for a tough ride production-wise. It's plummy – Paige and Dickson are troupers and their reading of the song is braced with certitude and has little room for vulnerability. And while Tim Rice certainly could throw the kind of emotional daggers Benny and Bjorn once did, he's not bothering here: this is a pro forma weepie at best, its coding of wife as security, mistress as fantasy summing up its basic laziness.
And yet – none of those issues are really Andersson and Ulvaeus' fault, and what redeems the record is the one thing they could control: the composition. Like the previous number one, "I Know Him So Well" is an absolute belter to sing along with: at weddings, karaoke, anywhere. There's one moment – only one, really – of ABBA-level brilliance, the "Didn't I know how it would go?" climax where the two women's accounts join up. Paige and Dickson almost ruin it with fruity finishing-school "o" sounds but if you're singing along in the disco or the booth you'll find the song sweeping you into the intended confusion and release.
5
Comments
«
1
2
All
«
1
2
All
Add your comment
Top of page