25
Aug 09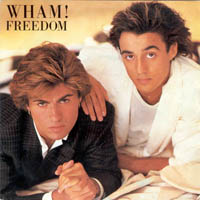 Just as with "Careless Whisper", "Freedom" finds George Michael working his way through a form: the upbeat, Tamla-style soul stomper. A fine thing to be doing, except this is almost twice as long as many Motown hits and it doesn't use the extra space to any great effect. The cascading "I don't want your / I don't want your" vocals and guitar work at the end are sheer embellishment.
That wouldn't matter a whit – they're pleasant to listen to, after all – except that there's a tight, wounded song in "Freedom" which might have been better served by brevity. In fact a three-minute edit of "Freedom" would be comfortably my favourite Wham! record: those post-chorus cheerleading "Do! Do! Do!"s might be first against the wall. They're pointlessly celebratory, and it's not like George has much to celebrate here.
At its centre the track's a flip on a "Men Are From Mars" caricature of gender relations, and a case study in fidelity as game theory. George wants to be exclusive, his girl thinks otherwise, and what really stings isn't even the other boys, it's the way she mocks him for missing out. Even lying would be better: "If you loved me baby you'd deny it / But you laugh and tell me I should try it" is one of the more hangdog lines in pop, and Michael's performance hits the right note of petulance, bafflement and hurt. But to get to the hurt you have to fight your way through all the bunting he's draped the track in, which turns it into something bouncier and frothier, an effectively upbeat song that pulls its emotional punch.
6
Comments
«
1
2
All
«
1
2
All
Add your comment
Top of page