17
Aug 09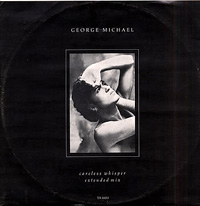 Every songwriter seems to have one: the perfect tune they wrote at the very pre-dawn of their career, before fame came knocking. Does it bother Mick Hucknall, I wonder, that he's never written a better song than one he wrote when he was 17? There are plenty who'd say the same about this, and for certain George Michael never again wrote a lyric as immediate as the "guilty feet" line.
If "Careless Whisper" hadn't come upon the teenage George in a flash, you might be tempted to view it as a somewhat self-conscious attempt to progress his career by writing a 'standard'. But only the credit was cynical: Michael dropping the Wham to make an early and crude stab at separating the goo from the go-go. It's the same impulse that would lead him to the disaster of calling an album Listen Without Prejudice – and "Careless Whisper" issued that directive much more effectively.
You can hear it's a young man's song, though – it's the record's saving grace. "Careless Whisper" is a knot of confusion – it's over, no, I want you back; I did a terrible thing – but wait, was it so wrong? Who's betrayed who with who? Why does the music die when they hit the floor? Nothing's truly clear except Michael's own anguish at screwing up so badly, expressed most perfectly in the song's killer moment: "Tonight the music seems so loud! I wish that we could lose this crowd -" It's a blurting rejection of the song's steadiness, and some of the energy carries into George's falsetto coda.
Certainly it's a higher peak than the iconic horn riff, which – like the sad Spanish guitar flummery – doesn't do much more than set a scene and telegraph its writer's desire to make a cocktail soul classic. It's worth noting, looking at the list of covers on Wikipedia, that despite "Careless Whisper"'s undoubtedly massive success, few of the people who've taken it on are soul singers: there's a feckless, appealing rawness to it which Michael's overly smooth production can't wholly conceal.
7
Comments
«
1
2
3
All
«
1
2
3
All
Add your comment
Top of page