28
Aug 09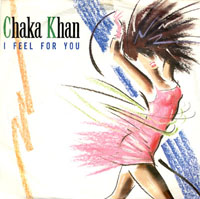 Asked to describe the I Feel For You album, Wikipedia offers "Genre: Funk, Hip Hop, Electronic dance music, soul, Rhythm and blues, Pop". By a remarkable coincidence that is the exact genre of this single, too – a time-shifting stylistic summit meeting that offers nothing less than a Grand Unified Theory of black American pop over the past two decades.
Except that makes it sound calculated and formal and "I Feel For You" is nothing of the sort – its glory isn't in the fact of genres mixing, it's in what they each bring to the party, the track's blend of the hard-assed, the passionate and the blithe. That last in the form of Stevie Wonder's harmonica, fluttering and darting over the beat and breaking down history itself – suddenly it's 1962 again and he's Little Stevie, the crowd roaring at his prodigal talent.
Back in the present day there are new skills to be admired. I don't have the depth of knowledge to figure where "I Feel For You" fits into hip-hop history but to me it feels significant, a direct and brilliant assertion of the new music's place in the continuity of black pop, a graduation party. From our perspective, of course, nothing much like this has got to number one before – New Edition's beats had a tinny thrill but hardly the punch of "I Feel For You", with its slick, box-fresh synth-funk. And of course they didn't have Melle Mel, whose rapid, almost whispered rap beckons you into the song.
The keyboard and harmonica interplay almost drives Chaka Khan out of her own track, but wisely she doesn't try to dominate the music. She could have belted the chorus but she takes it more thoughtfully, sighing, shuddering and finally just saying "I think I – love you", creating a stillness round which the rest of the track can move.
And behind it all, the songwriter: Prince's own version of "I Feel For You", which I'd never heard before today, sounds delighted and goofy with self-discovery. Hearing it you can't quite believe that it could survive being expanded, exploded and empowered in this way. But perhaps it's no surprise: the man who wrote it spent his peak years mapping the interzone "I Feel For You" dances so wonderfully in.
9
Comments
«
1
2
3
4
All
«
1
2
3
4
All
Add your comment
Top of page