29
Jun 09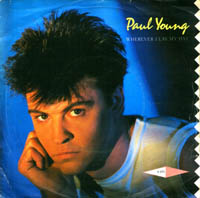 In the mid-90s I worked in the Music And Video Exchange chain in Notting Hill Gate. Paul Young's No Parlez holds a special place in my affections from those years – not because we ever knowingly played it, but because it was the undisputed number one landfill vinyl "penny each for these, mate" champ. Browsing the 20p albums down in that malodorous Pembridge Road basement, it seemed like every fourth flick would bring you face to face with Paul's teased-up hair, quizzical expression and sweaty leather suit.
The collective rush to jettison a record tells you something about that record: not that it's bad, necessarily, but that it's served its purpose. Whatever need Paul Young fulfilled in 1983-4 was, ten years later, a need no longer: the Young-shaped hole in his audience's lives had closed up. Why and how? The easy analysis is to say that Young's music had only ever been furniture, a "lifestyle accessory" in the sneer of the day.
And "Wherever I Lay My Hat" doesn't do much to duck this charge: Pino Palladino's notorious fretless bass playing – accompanied by the gentlest brushing of percussive pops – creates so much space in the track that it doesn't feel so much arranged as designed. The bass here isn't music: it's lighting, meant to put Young's throaty burr in as attractive a setting as possible.
What's remarkable, though, is how effective it is, even now we know all the tricks and see all the joins. Palladino's playing may not sound classy these days, but it does sound really odd: a viscous ambient sludge which leaves Young's self-justifying growl naked, more vulnerable and raw than it deserves to be. The flushes of keyboard colour play a similar illusionary role – sketching the outline of a stronger tune than this recording of "Hat" actually contains. And this ends up a track rescued from contempt, a lot stronger than I'd ever imagined it was.
6
Comments
1
2
»
All
1
2
»
All
Add your comment
Top of page