4
Feb 09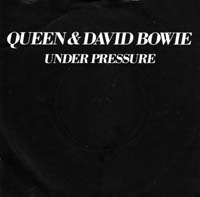 Here's a type of record which really came into its own in the 80s: rock or pop songs which were terrifically likeable despite having little or no emotional grip. "Under Pressure" is a good example of this because there's a colossal gap between what the song is notionally about – "People on streets", as the working title had it – and the actual sensation of listening to it. The video – a badly-synched montage of collapse, depression and hardship – adds to the disconnect. "Under Pressure" simply has nothing whatsoever to do with its purported subject: all you really need to know is in the artist credit, not the title. This is a tag-team bout between two of Britain's stagiest acts, who go for broke in an attempt to outdo one another. Who wins? (Aside from us.)
Actually, the wrestling metaphor doesn't quite cut it – this is more like a two-legged home-and-away football tie. The first half of the song – nervy, slick white funk built on that remarkable bassline – is on Bowie territory and it's the Dame who steals the show and gets the best line ("It's the terror of knowing…"): Freddie Mercury's contributions here are a bit niminy-piminy, sketches around the edge of the song.
In the second half though, when "Under Pressure" rocks out, Queen are playing with home advantage, and the handover from Bowie's "under pressure we're cracking" to Sir Fred's mighty "Why can't we give ourselves one more chance?" is the song's most ridiculous, glorious moment: a stunning strike from the Queen frontman whose over-the-top goal celebration ("why can't we give love, give love, give love") just prolongs the joy. But wait! Bowie responds, matching Queen's style of play with the kind of hollow, high-flown declamatory singing that would become a feature of his 80s work: "Love's such an old-fashioned thing…." Here it works, because for the first time the song feels like a duet rather than a collection of entertaining parts: two icons vibing off one another in a way that big-name collaborators rarely do. A Bowie victory, then, but this is an exhibition match, and the crowd go home satisfied whoever they supported.
"Under Pressure" is both behind its times and ahead of them – it's two giants of the theatrical 70s making a record full of chest-thumping pomp that ought by rights to seem sluggish next to New Pop and downright insulting next to "Ghost Town". But it's also the first (and possibly best) stadium rock number one – a sign that the decade would be one in which bombast and the grand gesture would play significant roles. So would terrific basslines, which is probably why "Under Pressure" gets away with it, even while it ends up being a record about nothing more than the stylistic licks its makers trade.
8
Comments
«
1
2
3
All
«
1
2
3
All
Add your comment
Top of page