16
Jan 09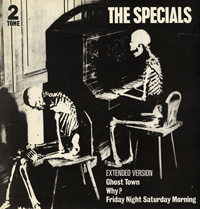 When Graham Linehan and Arthur Matthews picked "Ghost Town" for an unforgettable appearance in Father Ted, they apparently wanted the worst record imaginable to play at a disco. But there's actually a lot of dancing in the song, which knots its competing jostle of ideas together with an incisive – and wholly struttable – mid-tempo groove. The reason you wouldn't dance to "Ghost Town" is that the floor's already full – of fighting, but also of spectres. The record is full of crescendos and horn vamps that beckon you to dance and then break off, plunging the song back into shadow. And when the dance does kick off you'd rather not be part of it – those horrible shrieking backing vocals are the sound of a danse macabre, a skeleton skank conducted by the sleeve's bony pianist.
In the astonishing video these hellbound howls soundtrack a car crammed with Specials swerving and banking chaotically through a deserted, apocalyptic London. The car isn't out of control, its driver spins the wheel with determined abandon, its lunatic progress catching the sense of awful, mocking liberation in those vocals.
The video also illuminates the song's other great moment of malevolent jauntiness, Terry Hall's brief reverie of the "Boom Town". Hearing the track, you could almost mistake his doleful delivery for sincere regret, but when you see him sing it – head tilted, corpselit and simpering – it sounds rotten, as haunted and corrupted as anything else in the Ghost Town. What makes this single so amazing is the way its emotional tenor is constantly shifting and reshaping, evoking horror and collapse so well but also making them sound darkly attractive: the shiver that runs down the spine on "People gettin' angry" is a thrill of anticipation as well as fear.
All of which is to say that even if the grim energy of "Ghost Town" hadn't fitted the times so well, even if the song had remained simply a lament for a scene (and a band) in breakdown, it would still be a gothic masterpiece. The near-coincidence that made "Ghost Town" a legend – British cities erupting in riot while this sat at Number 1 – shouldn't obscure the fact that this is an astonishing achievement anyway. It's the culmination of Jerry Dammers' obsession with easy listening and program music, the perfect patchwork of those influences and the Specials' tight ska roots, the sound of a group getting it stunningly right (and promptly imploding: "Ghost Town" is as unfollowable as "Good Vibrations"). From the dust-laden fade-in to the faltering heartbeat drums on the fade, there's not one single element in this song that doesn't work beautifully.
10
Comments
«
1
2
3
4
All
«
1
2
3
4
All
Add your comment
Top of page