9
Jan 09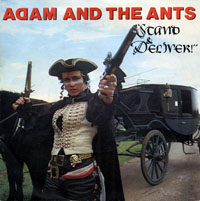 When it comes to pop, "style over substance" is an enduring criticism: almost as powerful as it is dumb. So often pop plays a shell game with the ideas – using style as a mask or code to make sure the right people get the substance; or using the excuse of artistry to get away with the most outrageous leaps in style. "Stand And Deliver" is a stylist's manifesto in lyric and sound, and in the record's worst line – "Deep meaning philosophies where only showbiz loses" – Adam buys into the binary himself and betrays a certain fretful conservatism. Why not turn philosophies into showbiz, like the rest of the New Pop was doing? (It hadn't done the Beatles or McLaren any harm, after all)
But even as Adam sang that line he wasn't living it: the rest of his song was busy turning showbiz into philosophy. By most accounts Adam was too uptight to fit into the New Romantic, Blitz Kid scene, but this song takes its spirit and turns it into slogans you could understand in the playground: "I spend my cash on looking flash"; "It's kind of tough to tell a scruff the big mistake he's making". Adam is singing about the joy of dressing up, of let's pretend – grabbing a look or sound and living it. The tribal double drums from his breakthrough singles stayed but the image changed, Native American chic replaced by 18th century loot: highwaymen, Georgian blades, pirates. And that fed back into the sound – instead of the unyielding Burundi patterns of "Dog Eat Dog" or "Kings Of The Wild Frontier", the rhythms in "Stand And Deliver" are full of flourishes and gallops.
The result was intoxicating, thrilling. Already a star, and a canny, watchful star when it came to his business, Adam Ant must have known that his first new material of '81 had a good chance of going straight in at the top. To his credit he made a record that deserved to. Later he would play the pantomime card too often, but on "Stand And Deliver" he pitches the costume drama just right – a riot of colour and a tiny hint of danger. Seeing the video I knew this record was more of an Event than anything I'd heard before.
Certainly "Stand And Deliver" is built as an event, from the horns that announce it to the savage "Yah!" that ends it. The thing that strikes me about it now is how fast it is: at a rough estimate it's topping 140 bpm and it feels like a steeplechase, punctuated by those stick-clashing breaks and accompanied by war whoops. These cries and hollers added needed and marvellous colour to Ant tracks – the man wasn't a great melodist or harmonist – and also reinforced the impression that being an Ant was a wonderful job, a life of brigandage and comradeship. At the climax of "Stand And Deliver", the faux-tribal calls of his previous hits are suddenly shifted into the 18th century setting with the gloriously idiotic chant of "fa diddly qua qua!". Not for the last time one is struck by the loyalty of the resolutely un-dandyish Marco Pirroni et al. as they sang along, but it was so worth it.
What did it mean? It meant Adam Ant had flair and balls and a sense of the absurd. It meant he was a star. The little boys understood: for me everything about "Stand And Deliver" – the music, the look – was brilliant. The moment Adam Ant crashed through the window above the banqueting hall was the moment I became quietly obsessed with pop. I have never had the confidence or dress sense to be a dandy highwayman, but if it'll have me I'd still pledge my allegiance to the Insect Nation.
9
Comments
«
1
2
3
4
All
«
1
2
3
4
All
Add your comment
Top of page