9
Dec 08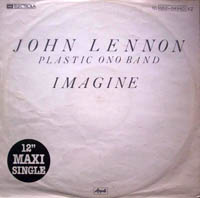 "John Lennon's life was no longer a debate" – in a song which has a good claim to be the stupidest lyric ever recorded, this is a glimpse of insight. Lennon's murder didn't turn him into an icon – he was one anyway – but it froze his iconicity into a certain pattern: troubled genius, artist, lover and man of peace. The perfect demonstration of this was the release of Albert Goldman's Lennon biography, which aroused raving outrage simply by detailing the numerous ways in which Lennon was a perfectly typical 60s and 70s rock star. There was more to him than that, but there's more to him than "Imagine" too.
Not that you'd know it sometimes. In yesterday's Guardian Yoko Ono delighted us with some 'celebrity wrapping paper' – a sheet of newspaper on which she'd had printed the words "IMAGINE PEACE", translated into the languages of many nations. What it instantly reminded me of were the ads produced by big global companies – like BA and McDonalds – in which their taglines appear in a similar polyglot style. It helped make concrete what Lennon has become, if not the walking foaming debate he'd sometimes been when alive: a brand. Ono's directive Fluxus pieces still seem sharp and ahead of their time because they've come to look like a prior response to the aphoristic emptiness of the business advice and self-help industries: most of the stuff in Grapefruit would fit nicely on Twitter. But as the wrap demonstrates, she's since met those trends more than halfway. And what are the Lennon Brand's values, its products, its mission statement? "Imagine Peace". "Imagine". Peace. (The former has generally been a bigger seller than the latter).
Lennon hasn't had it all his own way critically: I am hardly the first writer to dislike "Imagine". In fact the laurels on the comment thread are likely to go to anyone who can make a really good case for its beauty, wisdom or excellence. But in general – to Sir Macca's increasingly public dudgeon – he's been ensconced as the Beatle Who Mattered; the artist, the poet, the rocker, the experimenter. And the public popularity of this song at least is truly unshakable – in any poll of the top number ones, or the top songs ever, there it is.
"Imagine" is a Fluxus piece for primary schools – "it's easy if you try" says Teacher John, as if he's telling us how to make a potato print. Presumably its profundity and simplicity are a big reason for its popularity, but there's a My First Koan feel to the lyrics and performance which turns these qualities into dodges: if you think too hard about the words you're not doing it right. And in a way it does feel cheap to pick "Imagine" apart, as despite all appearances I'm not sure it's meant as a philosophical statement – though again, since December 1980, that's what it's become.
So what is good about it? It's instantly memorable and sincerely performed, and if you're charitable you can see slyness in a song that begins "Imagine there's no heaven" but is so obviously trying for hymnal qualities. But that doesn't get past how grimly tedious it is to listen to, or excuse the infuriating sanctimony in Lennon's voice when he sings "I wonder if you can". That line's a tell if ever I heard one: Lennon can't quite shake off his competitive streak, his acerbic edge. The song isn't a program, it's a fantasy of all Lennon's personal sources of conflict – religion, money, national borders – being magically removed. It is – and sounds – a really supine, passive song: peace is a function of obstacles being waved away, making the singer a better person.
In 1971 it shared album space with the vastly more entertaining intra-Beatle bitchfest "How Do You Sleep?", a sign that Lennon was either a colossal hypocrite or that he was well aware that "Imagine" was one dream-version of his cantankerous self. On that record it's still not good, but it is what it is – another facet or mood of its writer. Taken to represent the whole of him, it's a fraud. Taken to represent the whole of Pop – well, you might as well list the Top 100 Jokes Of All Time and put "What if they gave a war and nobody came?" at the summit.
2
Comments
Add your comment
Top of page