19
Aug 08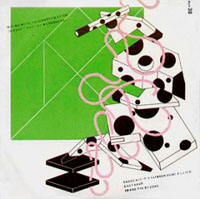 What is the relationship between the charts and everything else? The charts are a show home for pop music, filled with its shiniest mod cons, but one stuffed with hidden doors and tunnels, records that can tumble you out of pop and into other worlds which have their own codes and rules and no cosy countdown to set things in order. And in those other worlds – some of them, anyway – the charts are a sunlit palace of temptation, but to step (or be plucked) into it is to risk having your life and art and the world it came from turned higgledy-piggledy.
Every so often a door between the palace of pop and one of these other worlds opens so wide that every visitor can't help but notice it and the walls between what's mainstream and what's not suddenly seem very thin. "Double Barrel" is one of them, so you could argue is "A Whiter Shade Of Pale". So is this: it promises a sharper, smarter, more dangerous place than Number One hits generally admit you to.
This wasn't a fluke, either, a canny act taking advantage of the January lull: it sold close to a million copies, a megahit in an era of them. "Rhythm Stick" is the sound of a band well aware that they've written a smash, and pushing themselves to make the delivery count. There isn't a wasted note or fluffed decision on the track, but the whole thing comes off as wonderfully simple – a darting, jabbing groove designed to seduce even the most stand-offish of blokes onto the dancefloor, and a superb backdrop for Dury's amazing performance.
I've never been a huge fan of Ian Dury – like a lot of highly quotable songwriters, he works best for me quoted. But on "Rhythm Stick" he makes every word count, caressing the line-end "-o" and "-an" sounds, wheezing and gasping through the chorus, then kicking off on the coda as the guitar shrieks him on. This is one of the first number ones where the hip-hop concept of "flow" really seems relevant: riding a rhythm, racking up bonuses with multi-syllable combos. 
Like "Y.M.C.A.", this is an ostensibly inclusive lyric, celebrating the universality of dancing (or screwing), but there's also something mocking, even sinister about it: check the promo clip of Dury onstage, surrounded by darkness, blinking, contorting, urging the dance on but always apart from it. That goblinoid malice doesn't come across so fully on record – "Rhythm Stick" got to No.1 because it was infectious and jolly as well as demented and sardonic – but it's there.
The distance, as much as the playful aggression, might make this one of the most laddish dance records. It's never beery or off-putting, though: there's just a thread of cheek to it, which if followed might lead you quite out of pop and into some very rum places. Though just then the top of the charts was as rum a place as any. The people who didn't fit in anywhere were getting their chance not just to make, but to define pop music: interesting times ahead.
9
Comments
«
1
2
3
4
5
»
All
«
1
2
3
4
5
»
All
Add your comment
Top of page