10
Jul 08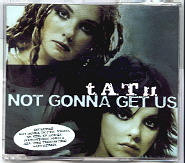 There is a strange double headed hydra lurking at the centre of pop marketing. The first head is the music. The music is the product, and the music is what people are buying. If the music is good enough, surely there is no need for extraneous marketing. However the second head rears up here, and will happily point out the huge number of other singles being released all of which have some claim to being good. Since once you are inside the belly of the beast (in this case a hydra) it becomes more difficult to spot those sure fire winners. Especially if those future hits require a couple of plays. So how do you get a couple of plays? Sensationalist marketing. Such as:
LIPSTICK LESBIAN RUSSIAN TEEN POP SENSATIONS TATU FOLLOW UP SINGLE SMASH
SHOCKING VIDEO FOR SAPPHIC SENSATIONS WHO WOULD NOT BE LEGAL IN THE UK
TREVOR HORN PRODUCES NOT QUITE AS GOOD FOLLOW UP SINGLE TO ALL THE THINGS SHE SAID
Yes, one of these headlines is not like the other. Because there is little room for truth in marketing, and as t.a.T.u.'s second big world hit is still a pretty good single. Not Gonna Get Us relies strongly on the girls strangled cat vocals, which are still startling. It reminds you of All the Things She Said, without completely replicating it – and in its own way continues the loose story of the previous track. It is Lena and Yulia's forbidden love against the world, and the world is not going to get them. Not that their plan of "hiding in plain sight making a lot of noise" makes an awful lot of sense. But it works as a robust dancefloor filler, happy to fit in a pop, goth or emo club (where we might find our confused teens punching the air shouting "They Don't Understand Us".)
I suppose my question is – bearing in mind that this list was made in 2004 – does Not Gonna Get Us stand up as a great single now? If we remove it from its trucking video, from the lesbian chic and the tabloid hoo-hah about nothing. Lesbianism has always been a strange hetero male fetish, and clearly one played up to the hilt at this point of global domination. Can the song also be separated from revelations of non-lesbianism, childbirth and that piss-poor petulant Eurovision song contest entry? Truth is it can't be divorced from either, and much like the less impressive follow up records of many a big thing, when revisited later its difficult to recreate the excitement, the feeling of NOW that allows a track like this to go to number one.
Of course, the comments box will now be filled with people saying how much they prefer Not Gonna Get Us. GO BACK TO YOUR MY MORNING JACKET ALBUMS!
That video, rimmed in tell tale FT pink! (Fixed)
http://www.youtube.com/watch?v=DiYWbbAs9Ns
Comments
Add your comment
Top of page