24
Jul 08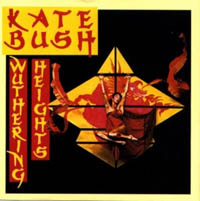 I've never read Wuthering Heights, though I like to imagine its heroine does a pushy-arm dance at some point. Looking it up on Wikipedia, however, I was shocked to realise that Kate Bush is singing this song as a ghost, but really that's just another oddness on a teetering pile of them: in a really excellent article on Bush for the late Stylus magazine, Marcello Carlin (hi dere!) points out that she is "the last musician to be allowed to do what she likes, as and when she likes", and the precocious, precious "Wuthering Heights" is both evidence and justification for this indulgence.
On a parallel Earth somewhere, though, she never did anything else that anyone bought, and this is a one-hit-wonder, another in the seventies' cavalcade of novelties. After all, we've already considered a hymn played on bagpipes, a tribute to Van Gogh, a mother-and-son barrelhouse piano romp, a spoken-word treatise on cosmic annihilation, a disco vision of the future, and a three-part rock opera, at least two of which are routinely ranked among the best singles ever. So a pop adaptation of a Bronte novel is unprecedented, but only as unprecedented as anything else thrown at the wall in this oddest of eras. Its 'weirdness', in other words, is not exactly why "Wuthering Heights" ought to be treasured.
To understand why this record is so brilliant, it helps to understand what it is: a power ballad. Like all great power ballads, it has a stonking big guitar solo, but that's the least of its affiliation with the genre. It also has an absolutely steely conviction in its own seriousness and worth; it stares down even the merest notion that it might be ridiculous. And it continually raises its stakes: just when you think "Wuthering Heights" has peaked it pushes up somewhere higher, grander.
It starts off playful, Bush just revelling in how scrumptious words like "temper" or "greedy" sound when she's singing them. Then – "bad dreams in the night" – she starts pushing things on a bit, and then rolls into the chorus, showing her range and melodic skills off. And then she really starts moving – "ooh it gets dark", whipping up more of a storm, still playful enough to throw out that pine/find almost-rhyme though. The storm breaks on the second chorus, and Bush is imperious, working the song's newfound groove. Still only halfway through, when she takes things up another notch, no longer singing as a character but letting song and story dissolve into one another, "let me have it!" – the tingliest point in a record full of them. "You know it's me". It's one of those rare, liminal moments in pop when a performer seems to be trying to will a change in reality itself, to make our world simply swap places with the one her song's creating. The piano strains at its upper limit, and then the strings come in, the moment of crisis passes, Kate Bush retires from her song in triumph and Dave Gilmour's solo is a meandering, heartfelt round of applause.
And that, as far as we're concerned, is that. Better one Kate Bush number one than none, and better this one than many, but it's still a shame. After such an introduction, it's us she's haunting, a face pressed at pop's casement window, mouthing a message: be this remarkable.
10
Comments
«
1
2
3
4
All
«
1
2
3
4
All
Add your comment
Top of page