25
Jul 08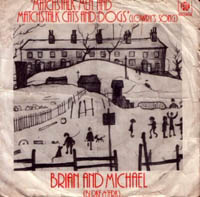 If Don McLean's "Vincent" presents the romantic case against critical neglect, "Matchstalk Men" is its populist inverse. Instead of the complacent mass refusing to see genius through Van Gogh's pain, here we have the snooty establishment admitting – too late! – that the Northern folk who adored L.S.Lowry were onto something. Brian and Michael score the win on solid pop grounds – their tune is better and their production is hotter. Well, Colliery Brass Bands are always hot in my world.
But then I'm one of the Southern jessies who's consuming this record as a neat little capsule of Northern-ness – much like a Lowry painting. Brian and Michael are smarter than McLean, too – they're sharp on exactly why Lowry gained recognition ("come on down and wear the old cloth cap"!) and you might generously say that they leave open the question of the point at which pride turns into pandering.
I associate this song not so much with Lowry's art as with the hand-drawn history lessons Blue Peter used to provide – little motion comics of Marie Antoinette or Louis Pasteur. I can't remember whether there was one on Lowry, but if not this record pretty much provides it as it holds your hand through its mildly didactic, wholly sentimental lesson: the "factory gates"/"pearly Gates" switch is a clunker whatever your regionality. The song goes on too long and the kids' choir doing their ally-ally-o routine is a step way too far. But for all that this is only a bad record, not a terrible one.
3
Comments
«
1
2
3
All
«
1
2
3
All
Add your comment
Top of page