22
Mar 08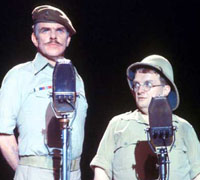 I'm going to try and recreate the context for this one from memory. Wikipedia and – god forbid – YouTube make this a pointless exercise, I know… but then that's rather appropriate, wouldn't you say?
It Ain't Half Hot Mum was a British sitcom of the 1970s, set in…. Burma? During the second world war? The hook was that a tyrannical and pompous sergeant major, played by Windsor Davies, had been put in charge of a squad not of soldiers but of entertainers, who were out in the jungle to boost the troops' morale. I can't remember if the entertainers were meant to be any good or not ("Whispering Grass" surely suggests not!) but certainly they were terrible soldiers, much to the unending dismay of Davies.
This isn't a bad set-up for a sitcom in the short-term, and It Ain't Half Hot Mum was a roaring success in its day, but is rarely repeated now because it drew a disproportionate amount of jokery from two sources: i) misunderstandings between the squad and the comical natives, who I seem to remember were generally white actors 'browned up', ii) clashes between Windsor Davies' character and Melvyn Hayes, who played a nervous and effeminate gay man. Both men are good comic actors and I found these second gags hilarious at the time, but I was 5 or 6.
Neither of these wells of humour is drawn on for "Whispering Grass", though it's quite bad enough without them. I'm assuming this is straight out of the series, probably an episode where they give a concert party, and someone falls ill, and so the Sergeant Major has to sing… WITH HILARIOUS CONSEQUENCES. That's the only way I can explain the weird structure of "Whispering Grass", which starts with a bit of Davies in-character, and then gives you most of the song with Don Estelle doing an adequate nostalgia turn, and just as you might be settling into enjoying the song back comes Davies doing it as an awkward spoken word. There's no joke-value in the first half and no pop-value in the second, so whatever you're coming to it for you'll be disappointed.
2
Comments
«
1
…
3
4
5
All
«
1
…
3
4
5
All
Add your comment
Top of page