7
Nov 07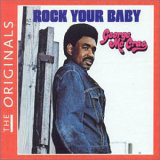 The high tide of glam goes out and soul music fills the gap, but soul is changing. Disco is heavenly music – it rests on a belief in the eternal (the groove), and decrees that such an eternity must be filled with sweetness… and if you weren't a believer, its rewards might well have seemed like life-sapping monotony, the false paradise of a sinister cult.
Personally I say – heathens begone! I love disco and I love what disco wrought – "Rock Your Baby", while plainly and deeply of its time, also sounds like the most modern thing I've covered so far. It's still more sex music than dance music, more bedroom than club – the perfect union of music, place, dancing (and drugs) that links disco to now isn't quite manifest here. But it's still disco, and I still love it.
Mine isn't an unusual love, mind you – even Mojo now runs features on Chic, and all but a handful of recidivist crits give disco at least grudging due. (The picture among fans is probably quite different, though I'm guessing that disco compilations comfortably outsell 70s rock ones). So I will do my best not to be defensive any more, and to assume nothing: after all it's only the perversity of this project that makes "Rock Your Baby" feel like a break-point.
There had been big hits built on groove before, of course, but the rock groove feels so much more insistent, nagging and scratching away at a point. On "Rock Your Baby" the groove is yielding, its endless cycles there for you to relax into, and when you do you notice the little embellishments, flourishes and details so much more – McCrae's voice included. He gives a lovely performance, tender and bliss-struck, but it's also one happy to surrender to the rhythm and the mix: especially after the great beasts of glam, McCrae is wonderfully ego-free, dissolved in joy.
8
Comments
«
1
2
3
All
«
1
2
3
All
Add your comment
Top of page