Posts from August 2021
24
Aug 21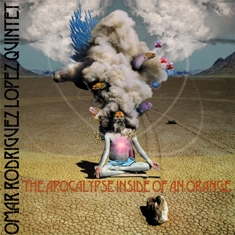 I've been especially drawn to instrumentals of late; I'm certain that this is because I haven't worked in an open-plan office for well over a year and can easily listen to music uninterrupted for nearly the whole of my working day. Lyrics mean way too much to me to ditch them entirely from the hours of 9-5, but I have found that it's often easier to concentrate with instrumental music in the background, because I'm not being distracted by poetics.
The key to an optimal WFH soundtrack is a very specific kind of aural wallpaper. Too minimal gets lost among the near constant lawn-mowing, leaf-blowing and hedge-trimming present on my street. Anything intensely vociferous negatively affects my attention span. What I require is the perfect William Morris print that balances variety with repetitious symmetry.
My search for the ideal ORL instrumental album led me to The Apocalypse Inside of an Orange. It's the only one credited to the Omar Rodríguez-López Quintet – basically a severely cut-back Mars Volta lineup sans Cedric Bixler-Zavala and with the addition of Money Mark on keyboards. It's the third instalment of the Amsterdam series of albums written and recorded in 2005 when ORL lived in that city, an interesting collection that includes his first-ever solo record, Omar Rodriguez, and Despair, among others.

»
More
18
Aug 21
*Four Letter Word Song Titles, that is.
As you all know I spend a lot of my pop time these days running elaborate Twitter tournaments.  These have a lot of matches and it can be tricky keeping track of what's going on, so this is an experiment whereby I'll link to all the polls that are running currently.
QUALIFYING ROUND: more »