Posts from 12th December 2017
12
Dec 17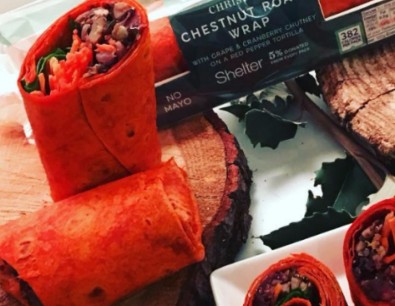 If buying sandwiches from a pharmacy seemed alien to me, I wonder what I would have thought about department stores selling them. I learned what Marks and Sparks was on the same tram journey back from Meadowhall that I learned what aubergine was (it was being used to describe a pair of unpurchased trousers, rejected for their colour). I had already learned that pants meant undies, and trousers indeed pants. Piece of cake, this English.
Nowadays, I solely consider M&S Simply Food, indeed. Thanks to their taunting adverts and fancy scran, I tend to think of their lunches as a tiny treat yo'self indulgence. Their first vegan wobs offering is a wrap – red pepper tortilla filled with carrots, spinach and chestnut/mixed grains, with grape & cranberry chutney to glue it all together.
Ewan wasn't overly impressed with the textured tortilla, and found the contents unevenly distributed with many too-carroty bites, overall rating it disappointing. That wasn't a problem with my wrap, but it was pretty small and not very filling. I did like the use of chestnuts – very xmassy – but I found it a bit too virtuous and not quite within the spirit of the xmas sanger.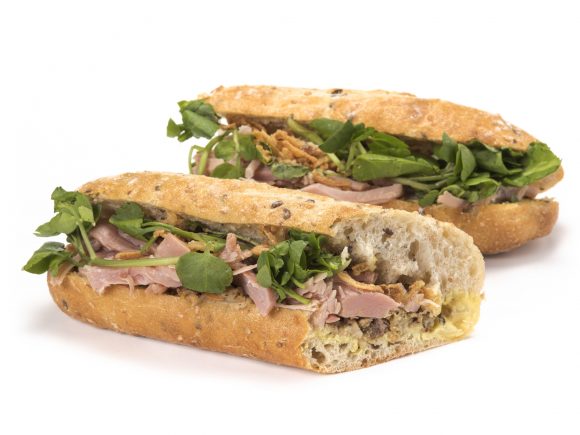 *The Freaky Trigger Advent Calendar Of Xmas Sandwiches OF COURSE
Pret's Christmas sandwich line may be the one to beat, but it is not without flaws. One particular recurrent problem gives anger to the Sandwich Gods: Pret continually use very crumbly ingredients. Crumbliness is a Bad Thing in sandwich terms particularly if – as is surely the case with Pret! – a sizeable chunk of your customers will be eating them at their desks. Keyboards and jumpers beware – there is no controlling the crispy onions in the Christmas Feast.
»
More
Austra's Future Politics was one of the first 2017 albums I heard, somewhere in the weeks of dread, defiance and hand-wringing around the Trump inauguration. It's coloured how I hear it ever since. The title announces it as a 'political' album, the sleeve signals that the contents are likely to be cryptic. Austra's Katy Stelmaris embraces our time of heightened nerves, this mode of being – which many lived in well before Trump – where 'politics' can exhaustingly infect every gesture. But she also rejects it, insists on ambiguity and a realm of private meaning.
»
More