Posts from March 2017
8
Mar 17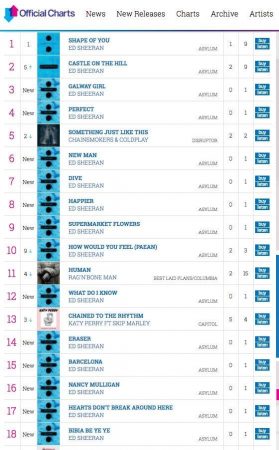 Ed Sheeran's absurd dominance of the singles chart is great news for him, his fans, Asylum records, and Paul Gambaccini's agent, but it's hard to argue it's good news for the chart itself. It demonstrates the utter weakness of the post-streaming Top 40 as a separate entity from the Album chart (since the release of any big new LP can swamp it) and frankly as a separate entity from the Spotify UK Top 50 playlist, which at least has the decency to update a few times a day.
If the problem were just "too many Ed Sheeran songs in the Top 40" then it's easily fixable – just cap the number of tracks which can chart from any individual LP. But that's not really the problem. (If you like Ed, it's not even *a* problem). It's of a piece with the sclerosis of the chart, that deathly slow turnover of new hits which started in the download era and has been accelerated by the dominance of streaming. And Ed or no Ed, there's no real sense that the singles chart has a role to play any more.

»
More
1
Mar 17
These are 27 of the 28 albums I listened to for the first time in February as part of this project. (The 28th, Joanna Newsom's Divers, is not on Spotify: it would have been represented by "Time, As A Symptom"). The pleasure for me in the project is discovery: the pleasure for me in the playlist is sequencing, and hopefully this mix makes a kind of sense.