Posts from 24th October 2016
24
Oct 16
Exhumed again, the 'hauntography' series, exploring the stories of M.R.James one by one! Read the original story, or read more about the series.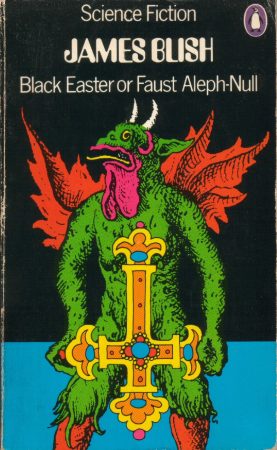 "All magic — I repeat, ALL magic, with no exceptions whatsoever — depends on the control of demons. By demons, I mean specifically fallen angels. No lesser class can do a thing for you. Now, I know one such whose earthly form includes a long tongue. You may find the notion comic."
"Not exactly."
"Let that pass for now. In any event, this is also a great Prince and President, whose apparition would cost me three days of work and two weeks of subsequent exhaustion. Shall I call him to lick stamps for me?"
— James Blish, Black Easter or Faust Aleph-Null (pub.Faber & Faber 1968, p.25-26 Penguin Edn, 1972)
A man discovers that recent deeds have created for him a fierce and a bitter enemy. Sinister events unfold and it becomes clear a fatal spell has been cast. If it is not lifted, the man will die, rather horribly. In the event, friends are able to help, forestalling the danger and defeating the terrible foe. Victory is theirs — but at cost of their best opinions of themselves. No longer can they quite self-describe as decent, rational, civilised, 'modern'. They have become what they fought.
More Ghost Stories, the collection containing M.R.James's 'Casting the Runes' was published in 1911; Life's Handicap, the collection containing Rudyard Kipling's 'The Mark of the Beast', was published in 1891. The short summary in the paragraph above accurately describes both stories.
»
More