Posts from 10th February 2016
10
Feb 16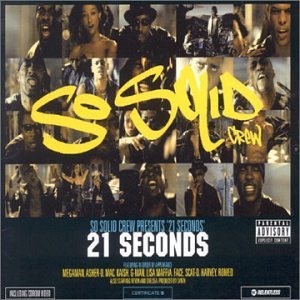 WHAT YOU LAUGHIN AT?
Eight people rap or sing on "21 Seconds". One more – producer G-Man – provides the music. But So Solid Crew as a concept contained multitudes, and became famous for it. A few other producers and MCs, for sure, but also backing singers, friends and family, local kids. They presented themselves as a clan, a Battersea estate moving en masse into the business of garage, into the charts. The size of So Solid, 20 or 30 strong, was a talking point, and an easy angle for mockery: it's rare to find an old piece or profile that doesn't boggle at it.
A group so large would be prone to split, you'd think. But the trouble with So Solid wasn't division. The idea of the group, as formed by public leader Megaman and a couple of the other, older men in the Crew, proved entirely workable – if members fought over the spotlight, it didn't show on record: there's no animosity between the MCs on "21 Seconds". If anything, the problem was loyalty. The wider any group gets, the more likely it is that one or two will be liabilities – whether in terms of talent, or looks, or behaviour. Successful acts played the industry game, cutting out problems. So Solid closed ranks, presented themselves as an all or nothing proposition even as the press smacked its lips over a growing reputation for trouble.
"21 Seconds" is an excellent record. But it's more than that – it may be the last real shock of a Number One. It does two things, unusual in themselves, outstanding together. It's the sound of a subculture in full cry – getting to Number One with one of its crucial tracks, not with some dribbled-out consolation record or opportunist rip-off. And it's a Number One that, to use a rubbed-smooth phrase, 'sounds like the future'. It seems to open doors, demonstrate new routes British pop could take. If British pop wanted to take them. But that was the question: did it?
»
More