Posts from 16th December 2014
16
Dec 14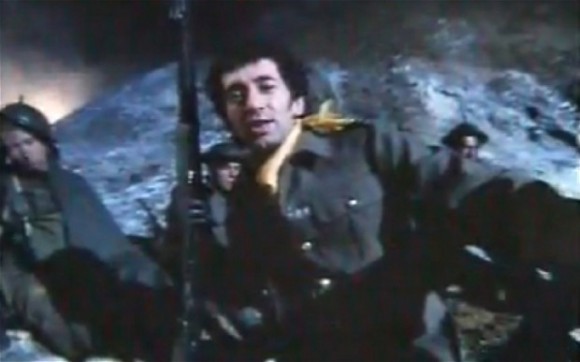 Christmas traditions are funny things – some of the most fixed turn out to have relatively recent roots, and new ones are manufactured all the time. Witness much hand-wringing this year about the import into the UK of Black Friday, a notoriously busy shopping day that makes sense after Thanksgiving in the USA (people have the day off) but far less over here. Still, it worked, and having successfully taken culturally will surely stick around.
Part of the British Christmas has been a canon of Christmas pop songs – Slade, Wizzard, Shakey, Jona Lewie, Greg Lake, Kirsty and the Pogues, Wham! Et al. The Christmas Canon has been a part of Christmas since I was a kid in the 80s, it feels as firmly set a tradition as you might find. But I suspect that's an illusion: it's changing, and the canon as we know it is on the way out.
On Facebook I mentioned that we'd know a generation had fallen from cultural influence when Jona Lewie got booted off the Christmas Canon. This was met with much sadness and shaking of heads from fans of "Stop The Cavalry", but the point wasn't that I dislike the song. I was 7 in 1980, disliking the song would be like disliking Christmas itself. It was put on the office playlist last week, though, and it struck me how odd it must seem to somebody who hadn't been around then – this lugubrious, kinda-sorta new-wavey thing that bobs along all about "nuclear fallout zones" and cavalry. It's like that one ugly bauble you always hang on the tree because you bought it as a kid: the time will come when you aren't decorating the tree any more, and the bauble might be quietly pushed to the back, then forgotten entirely.
»
More
Yes, it's the most wonderful time of the year, it's FTBCANYPC time!
This year for our 15th crawl we will be having a little saunter around Kentish Town. or at least down the hill from Gospel Oak to Kentish Town West, taking in Vines, pineapples and Tapping An Admiral or two…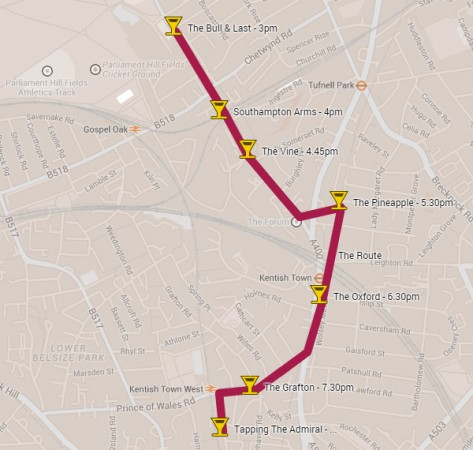 Every year, on the 29th (except when it wasn't) we go an a merry trail around a list of pubs, many of which may be closed, to appreciate the architecture, and, you know, maybe drink. This year's route takes us from the foot of Parliament Hill to the heart of Kentish Town in our bid to never actually do a crawl in Camden.
The Route is as follows:
3pm Bull and Last (why not get a scotch egg?)
4pm The Southampton Arms
4.45pm The Vine
5.30pm The Pineapple
6.30pm The Oxford
7.30pm The Grafton
8.30pm Tapping The Admiral
There is a Handy Google Map here: https://www.google.com/maps/d/edit?mid=zYR9Ng15Ymbs.kfOdKF4nYYvI
Look forward to seeing you!