Posts from 24th August 2011
24
Aug 11
53: The Box (DVD)
I missed The Box in the cinema, it being my year without film. It is the kind of film I would normally jump at, liking claustrophobic paranoid fantasies, films based on Twilight Zone episodes, Cameron Diaz, James Marsden and even not minding Richard Kelly*. And it starts promisingly enough, with a decent period scene setting and some nicely sympathetic leads. And then Frank Langella turns up at the door with the Box. The Box is a nice, cheap, period looking piece of technology – with its big red button under a dome. But the box isn't the problem. The box and what it leads to may be as preposterous as anything thrown at us in Kelly's other films but at least has a semblance of fun fantasy storytelling around it. The problem is Langella. Or at least his digital face.
Langella has played some of the greatest villains known to man. Insert Richard Nixon and Skeletor jokes here.
»
More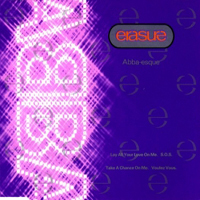 I've always found it hard to get a handle on Erasure. I end up filing them in the same headspace as ELO: remarkably successful, remarkably long-lived pop craftsmen who are generally – as here – enjoyable but only very rarely hit any sort of emotional or even conceptual payday. After playing all four ABBA-esque covers I couldn't help myself: I cued up the Pet Shop Boys' "Where The Streets Have No Name / Can't Take My Eyes Off Of You" medley and had forgotten anything I might have liked about Erasure within ten seconds.
But they were never a poor man's PSBs – there was something intriguingly different about Erasure, the way their two halves never quite gelled: Vince Clarke's sleek, tidy, heads-down synthpop and Andy Bell's roaming, reaching vocals. On their best singles the clash was productive – a track like "Drama" seems lopsided and unwieldy but it absolutely works: both men are fizzing and they end up going in the same direction. More often the potential was missed: on their worse tracks one or the other seemed bored.
»
More
Well it might as well be. Myself and Tim of this parish, and Meggean who is one person removed from the FT Collective (she is my old flatmate), were featured heavily on Radio 4's Soul Music show this week – basically we get the last fifteen minutes. The subject was Wichita Lineman, and the show also features Jimmy Webb and Glenn Campbell (and some bloke who really likes Johnny Cash). We were tapped up by this FT article, so writing rubbish on the internet really does sometimes lead to talking rubbish on the radio.
You can listen again to it here, via the Radio 4 website.. Or its repeated on Saturday afternoon at 3.30pm.