Posts from 29th December 2010
29
Dec 10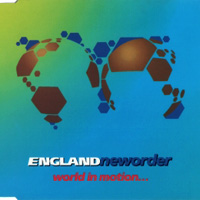 "World In Motion" is the ultimate 1990 record, but oddly the specific World Cup it reminds me of is 2002: living in London, broadly optimistic about England's prospects, watching football in the morning then going out in the afternoon sunshine and having a beer, maybe dancing later. That timelag made it a topsy-turvy experience, gave the sensation of the usual order of a World Cup summer being turned enjoyably upside down. The same kind of pleasant dislocation, in fact, that struck me when I heard, 12 years earlier, that New Order were going to make the England team record, and it was going to be called "E For England".
Well, it wasn't, but given the chain of marvelous unlikeliness this did set off – New Order doing a football song, New Order at number one, John Barnes rapping on a chart-topping hit – I can't begrudge one missing bit of cheekiness. The mooted title also points at what makes the track work – this really, genuinely "ain't a football song", the sport takes its place in a more universal celebration of summer, freedom, optimism, and most of all dance music.
»
More
(Front page bump)
It really may well be the tenth anniversary of the Annual Between Christmas And New Year Pub Crawl (FTABCANYPC or as we like to call it Fat Abs Canny PC). Every year since 2000 the drinkers of Freaky Trigger have spent the 29th December in a pub. Well, at least seven pubs infact, as it's the quietest pub day of the year, so we do our bit for the licensed trade and try to bolster their coffers.
Past crawls have taken in the Euston Hexagon, the Mornington Crescent, strange arcane routes across the river and last year a foray into Pimlico. The pubs are always interesting and at least one is always shut. This will almost certainly be the case this year as we have boldly decided to hit the City – and area we never normally drink in. We know that there are lots of pubs, some may even be good, and we are taking advantage of the downtime between Christmas and New Year to see some of them. If they are open.
»
More