Posts from 20th October 2010
20
Oct 10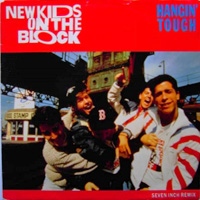 The video for "Hangin' Tough" flicks between scenes of the New Kids in concert – watched by air-punching and weeping fans – and images of them street-dancing in sync on a graffiti-heavy background. One of them hefts a baseball bat – cut to the concert and it's a jacket, which he hurls moodily to the floor. Underneath he's wearing a T-Shirt, black-on-white lettering, Katharine Hammett style: "HOME BOY".
»
More
or "i dremt it in the hidden pantry with the freudo-oneirical screwdriver"
… being a show-by-show TARDIS-esque (ie in effect random) exploration of Doctor Who Soup to Nuts, begun at LJ's diggerdydum community, and crossposted at FT.
Two-part 5IVE'n'chums diversion from 1982, set in an isolated country house complete with 20s JAZZ PARTY/HORROR MURDER MYSTERY: the Doctor is a key suspect; Nyssa encounters her earthling lookeylikey; Tegan gets it on with a top local cop. A quasi-historical — the last I believe for a very long time — featuring only TARDIS-related sf content. In fact, I have a THEORY about this ep, which may or may not be original to me! NOW READ ON
»
More