Posts from 15th October 2010
15
Oct 10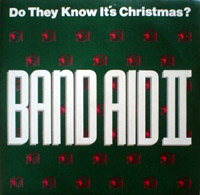 From the biggest-selling single of all time, to the ninth-biggest seller of 1989: charity hit glut illustrated in a single stat. Pete Waterman – pop's Mr. Rent-A-Conscience with three charity chart-toppers to his name – stressed at every turn that the whole thing was Bob Geldof's idea. Perhaps he was aware of the potential for anti-climax, or perhaps just nervous of the cynicism likely to greet a record largely manned by the PWL roster. Either way this is the sound of a golden goose croaking its last (for a while).
»
More
Random start point, random guests, random topics. This weeks Lollards is all LOL no LARD, with Kat Stevens, Alix Campbell and Magnus Anderson being herded into opinions about topics they no nothing of by the medium of a fortune telling device and a pound should electronic roulette wheel. So expect discussions of Milford Haven, the Timeline of Glaciation, some future missile and that even at Disneyland Paris there still sin't nothing wrong with a little bump and grind.
Music comes from unmarked CD's we found at home somewhere.