Posts from 8th October 2010
8
Oct 10
Tomorrow I'll be revealing my favourite cheeses from the 100 I've written up here, and I'll be harnessing the powers of drunken chums science to work out the Supreme Winning Champion Cheese. But for now, here's cheese 100.
Montgomery's Cheddar
A hard raw-milk cow's cheese from Somerset, bought from Neals Yard Dairy.
Monty's is a real beast of a cheddar; strong and dense and farmy. I think it's my favourite cheddar, and it's definitely a classic. The rind of our wedge is pale biscuity white, imprinted with the pattern of the cloth it was bound in. It's smattered with fissures of a powdery beige – these remind me of lunar craters, but are the work of the cheese mite. Cheese mites love cheddar!
»
More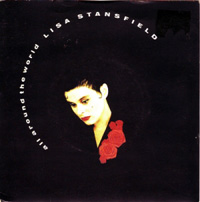 For the second time, Coldcut give a leg-up to a vocalist via the medium of "featuring" – but while Yazz' music with and without them wasn't too different, the gap between "People Hold On" and "All Around The World" is far wider. As a house vocalist, Lisa Stansfield was a terrific find: she could play the belter with the best of them, but also provide a calm centre for Coldcut's gleeful cut-and-mix pyrotechnics and pianos. Best of all, she sounded like she was having a tremendous time.
»
More