Posts from 11th August 2010
11
Aug 10
Asda's summer stilton might be the pinnacle of cheese-with-stuff-in wrongness. It's white stilton with – can I remember this? can I ever forget it? – white chocolate, vanilla, orange peel, and peach. I needed to try it.
And while I was there, I noticed that Asda also sold something billed as the Ultimate Chocolate Cheese – Wensleydale with Belgian milk chocolate liberally scattered through it. So I sorta, umm, ended up buying that too.
»
More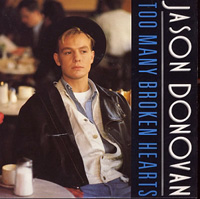 As a pop star, Jason Donovan had two big problems. The first was his singing, which we'll get to, but the second was that Stock Aitken And Waterman didn't seem to have much idea what to do with him. Kylie couldn't sing terribly well either, but she immediately turned out to be a missing piece in the PWL puzzle: a girl who could be ordinary without being boring. It helped that she'd had a few years experience as an actress doing exactly that, too.
»
More