Posts from 4th June 2010
4
Jun 10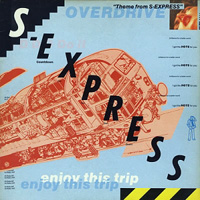 "Ohh – that's bad." Any claim S'Express might make to pioneer status seems not to stand up – as people on the M/A/R/R/S thread were quick to point out, this kind of sample-dense cut-up was losing its novelty by Autumn '87, and six months in dance music is a terribly long time. Mark Moore's group increase the density of sampling, and make their borrowings more obvious, but what they also do is push the social context of this kind of sampladelic club track. Yes, there's the predictable spaceships and stock footage in the video, and lots of odd shots of S'Express members miming to the samples, but all the shots of Moore himself and its lava-lamp lightshow imagery make the point that this isn't a novelty record, or an aesthete's studio project – "Theme From S'Express" is a record for and from a new kind of clubland, and a four-minute advert for it too.
»
More
A beer-washed, paprika-covered spiced cows milk cheese from France, bought from Une Normande a Londres.
Boulette d'Avesnes is also known as suppositoire du diable – you can translate that yourself. It's a pointed, conical little round of cheese, and comes in its own little plastic dome. It's a deep, fiery, damp powdery orange on the outside – a result of being rubbed down with hot paprika – and when I cut into it the paste is pale, soft and crumbly, and liberally speckled with herbs.
It tastes very interesting, but not very much like a cheese. My first impression is that it's sausagey, and subsequent tastings do nothing to dispel this. It tastes hot and smoky – the paprika rind, especially, is really quite intense. It's strongly flavoured, but not in any very cheesy way; it's very peppery, salty, and meaty. Spread on crusty bread, it makes an excellent dairysausage sandwich.
I'd not list this in my Top 10 Cheeses – I'm not entirely convinced that it's a cheese at all. But it's interesting and fun, at least in moderation. I'm not sure I'd like to try eating an entire one. And as an example of a cheese-with-stuff-in, it's definitely nicer than most. The internet suggests pairing it with beer and I think that it would go very well with something cold and hoppy.
With just one round left to run, the Seventies continue to claw back some of their lost ground. Our leading decade took a knock in the Number Twos, as Johnny Logan notched up the lowest average score of any track to date – but with the voting far from over, all this could change in a heartbeat.
Cumulative scores so far:
1(1) The Eighties – 35.52 points.
2(2) The Nineties – 33.72 points.
3(4) The Seventies – 31.05 points.
4(3) The Teens – 30.01 points.
5(5) The Noughties – 29.53 points.
6(6) The Sixties – 29.16 points.
Mindful of the fact that this is a post about UK Number Ones, on a site that already contains the ultimate guide to the subject, I'm going to try and keep these final blurbs short. Toe-trampling ain't my style!
1960: The Everly Brothers – Cathy's Clown (video) (Tom's write-up on Popular)
1970: England World Cup Squad – Back Home (video: at 3:46) (Tom's write-up on Popular)
1980: Dexy's Midnight Runners – Geno (video) (Tom's write-up on Popular)
1990: Madonna – Vogue (video)
2000: Oxide And Neutrino – Bound 4 Da Reload (Casualty) (video)
2010: Roll Deep – Good Times (video)

(Download the MP3)

»
More