Posts from 31st March 2010
31
Mar 10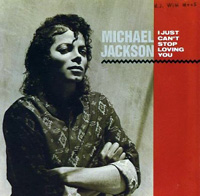 In a piece I wrote last year for Zero Books' The Resistible Demise Of Michael Jackson, I argued that the sense of self-conscious scale and event in 80s music came partly as an after-effect of Thriller's colossal sales, which suggested an inflated reach for pop, an expansion in the limits of what was commercially possible. This was a fantasy – no record has come close to Thriller's sales since – but it created a moment in which pop, and specifically Jackson, could sit at the centre of a celebrity universe.
»
More
I've been reading "Sonata For Jukebox" by Geoffrey O'Brien, which is a pop memoir of sorts, but more importantly outlines ways in which we (we?) live inside music: how it's not just to soundtrack our lives, it's the place where our memories live, the place where we keep our remembered feelings. That's part of what it's about, I think. I haven't finished it yet.
It's a good time to have stumbled across an installation by the name of "The Barefoot Lone Pilgrim" by David Blandy at the Aicon Gallery, which I happened to wander into on my way somewhere else.
»
More