Posts from 8th March 2010
8
Mar 10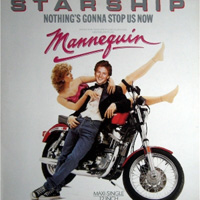 Listening to this song you realise that at some point the idea that a rock record should sound like a bunch of people in the same place playing the same music at the same time was completely abandoned by record producers. Not in the name of experimentation, or expanding a record's sound, but I guess just because that kind of verisimilitude didn't seem relevant any more. In its way this even seems a more radical shift than genres like dub reggae or techno which were clearly studio constructs from the off.
This is a long way of saying that there's something quite off about a song like "Nothing's Gonna Stop Us Now"
»
More
Hello there, due to Tom's ridiculously busy life and burgeoning media profile (you've all read Shiny Shiny, right?), Tim and I will be taking over putting the PWC tracks up for the next few weeks.
We start the second round of matches with a scrap for group supremacy between South Africa and Uruguay. A win for either team here would almost guarantee them a place in the last sixteen, so Isabel and Jim will no doubt have been sweating over their seleção…
This match will end at midnight on March 14th* – for now, get voting.
*oops, gave you 8 days originally, will close on sunday night now
»
More