Posts from 4th March 2010
4
Mar 10
Group H begins with an intriguing clash between the relatively unfancied Chile and the relatively even more unfancied Honduras. Points on the board important here – both sides have experienced pop managers: Chile has turned to Jel, whereas Honduras have hired veteran gaffer Carsmile Steve.
This match ends at midnight on the 10th March – please listen and vote!
»
More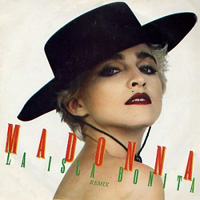 Madonna's appropriation move into Latin pop is a tightrope walk between corny and respectful: on the one hand an arrangement which packs in every Hispanic signifier bar a finishing "Ole!", on the other a performance that has far more authority, conviction and love than her last excursion into pastiche. "La Isla Bonita" on paper looks like the most awful quesa – but right from "Last night I dreamed of San Pedro" it goes in a different direction, a reverie full of the real ache of missing somewhere beautiful – there's something close to dread in her voice.
»
More