Posts from 30th September 2009
30
Sep 09
It's 'I Wanna Be Your Man', guest-starring the Uptight BBC Voiceover Man:
Don't criticise what you can't understand, square-o.
»
More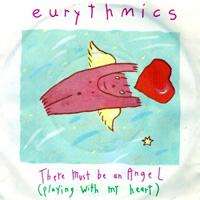 Pop's flight to quality continues apace – Stevie Wonder's harmonica solo on this song is his fourth appearance on a UK No.1 within a year. The mid-80s were a time for safe musical investments, and vintage black pop became the safest of all – who could go wrong with soul? On the Eurythmics' parent album Aretha Franklin herself took a turn. She and Wonder lent an air of borrowed distinction to the band's more classicist proceedings – a risky effect, casting pop stars as social climbers on the ladder of taste.
»
More