Posts from 26th May 2009
26
May 09
This Friday, 29th May, sees the return of Poptimism, FreakyTrigger's super special pop music club night. Now in its new home upstairs at the Horse by Lambeth North Tube, supplying the finest pop music and other surprises to a beer drinking hard dancing public. Join DJ's Carsmile Steve, Pete Baran and Special Guest Kat Stevens pounding out the tunes of our times, the past AND THE FUTURE. Regular DJ Tom Ewing will be keeping us updated with news of the birth of his second child while we dance away the night!
By the way, that's what the orange thing on the right is for. Its a Poptimism advert!
So in pictures:



Here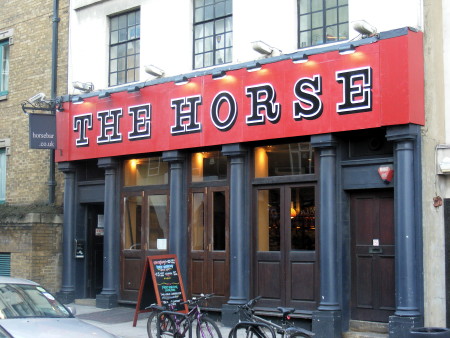 On

Hello! I have a cheesy ambition, and that's to eat and review every cheese available in Borough Market.  I'll take requests,  if there's a cheese that you want to see reviewed.
SPOILER ALERT: I have tried *quite a lot* of these cheeses already, but I'll try to not give plots away.
Neufchâtel
Cheese stats: French (from Normandy, actually), soft and unpasturised cow cheese
Bought from: Le Marche du Quartier
We ate this for lunch, on top of some sourdough bread.
It's shaped like a HEART!  *insert squeaking about cute cheese*  Apart from that, it's covered in a velvety mould.  This, cheese science fact fans, is penicillium camemberti, and it's the fungus that does the magic on camembert (hence the name) and brie.
I cut a slice from the cheese, and discovered that inside it's two cheeses in one. Directly under the fuzzy white rind, there's a smooth and sticky, slighly translucent yellow layer, while the heart of the cheese is lighter, crumbly and opaque.  I scoff my slice.  It's tasty!  Very buttery and creamy, but with a good  tangy, acidic aftertaste and a bit of bitterness and plenty of salt.  There's a hint of mushroominess in the taste, which reminds me of Brie.  I really like the contrast between the crumbly, fluffy core and the sticky layer around it.
Cheese-eating companion manages to keep a straight face while stating that it's 'floral, buttery, slightly grassy'.
Cheesy conclusion: This was a very good lunchtime cheese; not too stinky, and not too strong, but with plenty of interesting textures and flavours to keep us entertained.