Posts from 17th April 2009
17
Apr 09
As deliberate foodologists we cannot wait for the arrival of SQUEEZ BACON in the UK. The difficulty of proper bacon, however well cured, is its intractability when it comes to being spreadable, and the difficulty in writing your name with it. As we all know bacon is a malleable and portable substance ideal for squirtyisation, so it amazes us that no-one has realised the paradigm shift in a jar.
No artificial additives or preservatives and a shelf life of twelve years (though I reckon I'd get through a jar a week) it really is the pasty gift that keeps on giving. As the creator Vilhelm Lillefläsk says "Aldrig kommer att ge dig upp!" Which we believe translates as "Never gonna give you up". On assumes SQUEEZ BACON is also unlikely to let you down, run around or desert you. Though you can put it on your dessert.
Nevertheless the jar does make excessive claims about its powers, including :"it's rumoured ABBA met while eating Squeez Bacon® sandwiches?". Now I don't want to pour dairylea on their squeezy bacony parade but everyone knows the members of ABBA met after getting their respective bumper cars entangled at a funfair in Stockholm.
Though perhaps I could offer the suggestion of aerosolising it is as well. BACON WHIZZ…
(This entry is an edited version of this piece – it's my favourite thing I've ever written for FT, about possibly my favourite Number One, and I felt I couldn't improve on it.)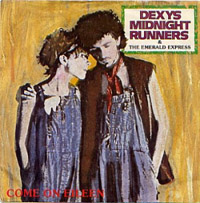 There is pop, and there is popular, and then there's popular. And there's also "timeless". Sometimes when people say that a record is "timeless" – let's pick on, oh, a Radiohead album – they mean it will be listened to and loved say twenty years from now. What they secretly mean is that it will be listened to in just the same reverent way as now: taste to them is a stock market, and they're keen to invest emotionally in records which promise steady long-term growth.
You can caricature the pop fan, too – their expenditure is without hope or desire of return, their passions are spent on mayfly records, and this hopelessly compromises their judgement in the eyes of their more sober peers. Particularly if, like me, they're fool enough to try and write about those records. As I say, though, there's pop, and popular, and popular – records which fool both the investors and the wastrels, freak mutant pop records which survive the chart that spawned them and then some, which simply keep on getting played. Eternal pop. "Celebration". "Dancing Queen". "Come On Eileen".
»
More