Posts from 19th March 2009
19
Mar 09
To read the story, click here; to read about our 'hauntography' project, click here.
"In March 1644 [Matthew Hopkins] had some seven or eight of that horrible sect of Witches living in the Towne where he lived, a Towne in Essex called Maningtree, with divers other adjacent Witches of other towns, who every six weeks in the night (being alwayes on the Friday night) had their meeting close by his house and had their severall solemne sacrifices there offered to the Devill, one of which this discoverer heard speaking to her Imps one night, and bid them goe to another Witch, who was thereupon apprehended, and searched, by women who had for many yeares knowne the Devills marks, and found to have three teats about her, which honest women have not
»
More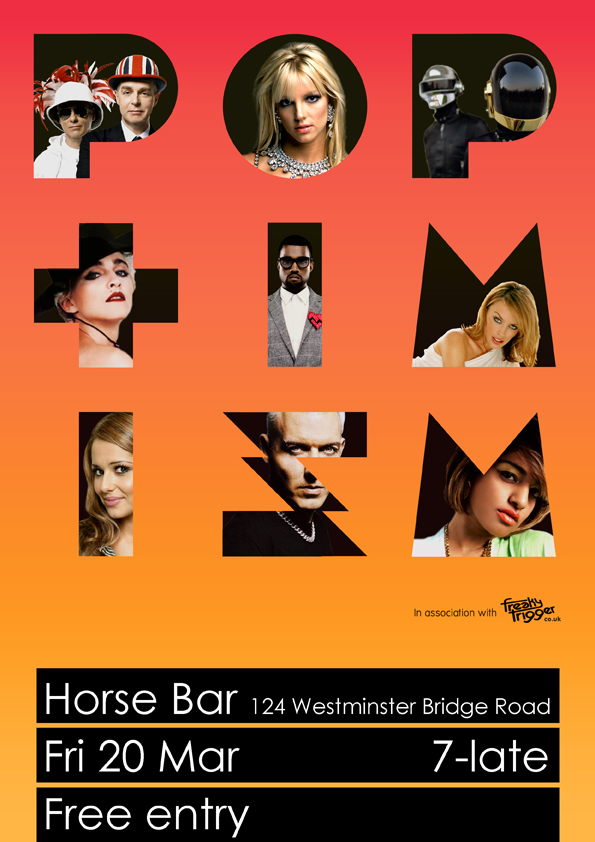 Poptimism is back! Back! BACK! This Friday, upstairs at The Horse Bar on Westminster Bridge Road, just across from Lambeth North tube. FREE entry, 7 'til Midnight, hopefully the first of many.
If you don't want to miss out on future Poptimism excitement, join the facebook group, innit.
The Young Vic is an exciting sort of place with a wealthy, sensual bustle to it. The lighting in the bar is of the kind that a friend once told me was "dark, so that everyone looks beautiful." I was there, alone, to see Pete Postlethwaite in a new production of King Lear, which opened in Liverpool last year to a rare unison of disapproval. But first I would need a ticket.
»
More