Posts from 31st July 2008
31
Jul 08
sistrah doctrah becky taught me this when i left home: maybe she invented it!! i'll have to ask…
YOU WILL NEED:
Young spinach leaves
Avocados
Pine nuts
Haloumi*
Vinaigrette**
Tomatos (optional)
Peppers (optional)
Crispy prefried bacon slices (optional)***
»
More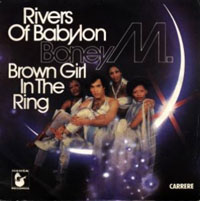 I didn't know about genre in 1978 but that didn't mean I couldn't recognise it, and this fitted into a very particular and not wholly liked one: music you might sing in school assembly. I didn't need to have read a single Psalm to know that somehow this fitted next to "When I Needed A Neighbour" and "Kum-By-Ya" and "The Ink Is Black" – i.e. "earnest singalong" not "fun singalong" like the soon-to-be-A-side "Brown Girl In The Ring" (which I did like).
»
More
Yes, yes, I know, why not just change the name of the website to New Morrissey Express Freaky Hibbett and be done with it, but just one more, then I'll shut up for a bit.
In actually two hours time I set off for EDINBURGH where myself and Mr Hibbett will be showing, for your delectation and delight, My Exciting Life In ROCK!
think that just about covers everything, Medina is here, right off Bristo Square (it's the downstairs bit). If you're in Edinburgh please come along, mention the "Freaky Trigger Special Offer" to get two for one all week, cos I'm generous like that.