Posts from 21st July 2008
21
Jul 08
So far I have spectacularly failed to fulfil my intended investigation into Westlife. To make up for it, last week I took my Mum to see The Feeling play at Somerset House (Mum had wanted to see Duffy, but that had sold out months earlier). The Feeling were my suggestion; Mum wasn't familiar with their output apart from the odd mention on Radio 2. I've listened to both their albums (at least twice through each!) and generally approve of them as a Positive Thing on life's tally. Mum caught my enthusiasm and declared she was 'very excited to be seeing live music again', but would there be anywhere to sit down or should she bring a folding chair?
»
More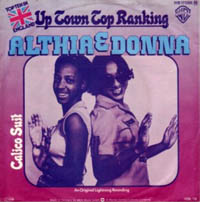 Even a dilettante like me is aware that the late 70s were a storied age for Jamaican music. The flow of talent and money between Kingston and London was starting to open up world markets to reggae, with Marley a superstar and punk drawing social (and increasingly musical) inspiration from roots and dub. In London, the sweeter sound of Lovers Rock was scoring occasional, deathless pop hits. In Jamaica, a fresh generation of MCs and singjays were starting to make waves, men who would become the stars of early dancehall. And in New York, techniques imported by reggae DJs were setting trends in motion that would transform pop's vocabulary.
So far, so historical. And then sneaking past the Kintyre titan for a week in the wintry sun was this, the most wondrous of one-hit wonders. If you want proof of the appeal of "Uptown Top Ranking", try this: I have never once, that I can remember, seen anyone decry it as inauthentic, or sold-out, or frivolous or unrepresentative of Jamaican music. Nobody resents it, in other words. How could they?
»
More