Posts from 10th July 2008
10
Jul 08
All of my favourite newspaper strips were at the comedy end of the market – and it is worth noting here how big an influence Segar's Popeye was on adventure strips. Nonetheless, there were some great adventure strips, back in the days when there was room for more than talking heads in comic strips. All of them feel old-fashioned these days, it should be admitted.
Roy Crane
As Popeye took over Thimble Theatre, so Captain Easy took over Roy Crane's Wash Tubbs strip – indeed, the Captain appeared just a few months after Popeye in 1929. He was a much more straightforward hero, shifting what had been a comedy adventure strip into more serious territory. Captain Easy was a definitive influence on adventure strips – and comic books too: he was an archetype who is seen in Superman and Batman and many others. He followed this with Buz Sawyer in 1943, a straight adventure strip. Roy Crane, more than anyone else, evolved the style of the adventure strip, in terms of art, story and character.
»
More
i. Tooty Frooties are still being made!
ii. They are still completely horrible :(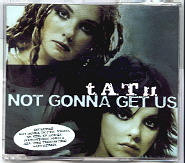 There is a strange double headed hydra lurking at the centre of pop marketing. The first head is the music. The music is the product, and the music is what people are buying. If the music is good enough, surely there is no need for extraneous marketing. However the second head rears up here, and will happily point out the huge number of other singles being released all of which have some claim to being good. Since once you are inside the belly of the beast (in this case a hydra) it becomes more difficult to spot those sure fire winners. Especially if those future hits require a couple of plays. So how do you get a couple of plays? Sensationalist marketing. Such as:
LIPSTICK LESBIAN RUSSIAN TEEN POP SENSATIONS TATU FOLLOW UP SINGLE SMASH
SHOCKING VIDEO FOR SAPPHIC SENSATIONS WHO WOULD NOT BE LEGAL IN THE UK
»
More