Posts from 27th June 2008
27
Jun 08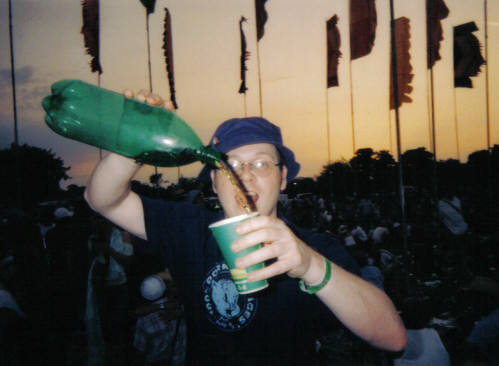 News reaches us from blackleg our intrepid reporter, MattDC, that scenes like the above are no longer permissable at Glastonbury as THE MAN has BANNED brothers from selling plastic 2 litre bottles of their yellow nectar. We are not yet sure if this is due to the plastic making a right old mess or the fact that each bottle contains approximately 14 units of alcohol.
If you have joined our Pilton Boycott this year (and thank you all 850,000 of you* that have) but are still hankering after peary goodness, brothers is now available quite widely. Use their excellent ciderfinder to find yr nearest stockist!
UPDATE: This just in "Theres a dude selling rockingdadchairs! ACTUAL ROCKING DADCHAIRS! Omg"
*based on reports in previous years of a million people trying to get tickets on the first day
I like a Martini. I said so here. So crimes against the Martini weigh heavily upon my soul. And I have had two spoiled recently by poor workmanship and baffling product packaging.
Let's start with the basics. Hancock Tower, on the day of the nuptials of Tim of this parish. A lovely, wonderful day – blisteringly sunny. We all met up on the 106th floor of said tower for a view over Chicago and a bit of dutch courage. Which wasn't dutch, but in this case was billed as a perfect Tanquerry Martini. Ingredients looked fine, and I asked for it with an olive. And it came back with an olive and the faintest patina of condensation on the outside of the glass. Well, I thought, the room was air-conditioned. Imagine how hot it would have been otherwise. It was 34 degrees on the ground, and we were a hundred storeys closer to the sun*.
»
More