Posts from 23rd June 2008
23
Jun 08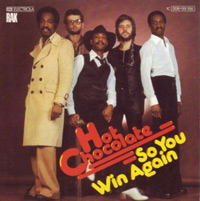 Errol Brown brought angst to the dancefloor as regularly as Michael Jackson ever would, but Hot Chocolate's neuroses were way more effortful, dredged up from some inner coil of dissatisfaction. The rising riff on "So You Win Again" sounds – in the best possible way – leaden, an anchor chain around Brown's hopes, forever pulling him down. "Here I am again – A LOSER." It's not the best Hot Chocolate track – that might be the dystopic "Mindless Boogie", or the uncomfortably pitiful "It Started With A Kiss", or "Everyone's A Winner", this track's savage flipside – but what it shares with the band's best work is the sense of a man wearing a shabby overcoat of disappointment, doomed to misery.
And the final will be…
Switzerland v Italy
Congratulations to Matt and Pete, commiserations to Alyson and Greg, both of whom produced performances that lit up this tournament. Switzerland powered through their semi, whereas Italy beat France by a single vote. Which of them will triumph? The final tracks go up on Thursday, and on Wednesday we take a look back over the tournament with the Europop 2008 Muxtape.
I went and saw My Bloody Valentine on Friday night, at the behest of Pitchfork. Here's what I thought of it. (photos not mine). This is, I think, the first live review I've ever written for (non-FT) publication – it was fun to do, especially when I put on my adjective hat. Congratulations to whoever suggested "eviscerating" at the pre-gig drinks: I apologise profusely for not fitting somnambulent in, or hypnotic oscillations, or ethereal. It really wasn't any of those things.