Posts from 6th June 2008
6
Jun 08
Did it get to number one? I don't know. Would it have made any difference either way? It might have accelerated the opprobrium, naturally there would have been questions in the house, a headline or twenty… but in this case a close call was enough. Malcolm McLaren was in a win-win situation, of course: "God Save The Queen" is easily as powerful as a martyr single as it would have been as a chart-topper. Witness the NME's recent, risible attempt to get it to its "rightful" position – it landed at #42. All crimes are paid, indeed. The Pistols' failure to hit the top is much more a badge of pride – "they" (whoever "they" were) were worried! – than an injustice to be righted.
»
More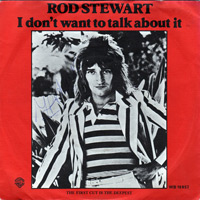 Rod at bay: both cuts of this double-A side find Stewart on the defensive, licking wounds inflicted in failed relationships. The subdued, pretty, "I Don't Want To Talk About It" is much the more effective (even if its clumsy heart-heart rhyme grates), rambling effectively and reminding you that the lothario is at his most dangerous when cornered. It hardly sounds like a No.1, and would work better without the guitar solo or that odd tacked-on key change, but it's grown on me and I could take another helping or three of that gentle acoustic picking.
"First Cut Is The Deepest" doesn't work nearly so well. It relies on you buying Rod as a bruised ingénue on the rebound, which is tough going on impossible. The problem with Rod is always one of credibility – right from the start of his career he wrote himself into his songs so indelibly that I'm always prodding his tracks for believability in a way I'd never do for most of his peers. "First Cut" sounds weatherbeaten and cynical, rather than freshly hurt, and it doesn't help that it's such a middleweight plod of a song.
With the knockout stages of the Europop tournament well underway, I asked a few managers – for their highlights of the game so far (these interviews conducted before the Switzerland-Germany result):
»
More