Posts from April 2008
12
Apr 08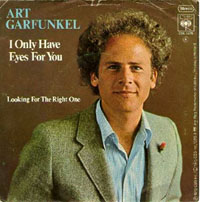 Evolution of a song: a witty number from a minor musical becomes, in the hands of The Flamingos, one of the greatest singles of all time – romantic, courtly, enchanting, and most of all awestruck by love. They took the well-turned smooshiness of the lyrics and made them live. It's their magical version that turned up in American Graffiti (and later Buffy) – but it isn't their version that got to #1 here (in fact it wasn't a hit here at all).
The spectral presence of the Flamingos shouldn't prejudice me against Art's version, but it does, a little, because Garfunkel takes their reading and pushes it slightly too far.
»
More
11
Apr 08

A matey vocal matched with a jaunty tune,"Hold Me Close" is clumsily eager to please. It claps me hard on the back and makes me splutter, its bogus bonhomie too loud and too close. Essex' singing on this is such a put-on: sure, all pop singers act but few of them this badly and baroquely, with such deliberated roughness. An out-take from Oliver fifteen years late, or an echo of "Parklife" two decades early? Either way, I'm allergic.
10
Apr 08
The second batch of Group A matches opens with the Czech Republic taking on Portugal. The Czechs need a win to keep their Europop hopes alive – if Portugal win, their passage to the quarter finals is all but assured. Hear the tracks, vote in the poll, and click below the cut for managerial comment, analysis, previews and match reports. IMPORTANT NOTE: The Portugal track is playing too fast in the inline player – you should download it to get the proper effect! We're working on getting a different version.
How to vote: Just pick the track you liked best! This poll will close next Thursday.
Czech Republic v Portugal - which track do you prefer?
Portugal: The Weatherman 58%

Czech Republic: Iva Fruhlingova 42%

Total Voters: 48

Poll closes: 17 Apr 2008 @ 10:00

Loading ...

»
More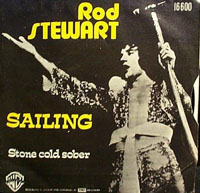 Fads come and go in the world of business: a recurrent buzzword right now is 'simplicity' – boil that report down to a sheet of A4, find the "nugget" in that presentation, apply the 'elevator test': if you can't summarise an idea in 30 seconds, it's worthless. The tone is a weird combination of zen and macho.
I'm all in favour of cutting out waffle but not when nuance gets thrown out too. The simple truth about simplicity is that most of the ideas that pass the elevator test are banal and useless: it's the implications of an idea that are often the interesting bit, and they're what gets lost. And I'd say the same of this record: Stewart seems to be trying to create something that's expressing yearning in as straightforward and widescreen a way as possible, but all subtlety's been boiled away and we're left with a great voice being put to dreary use.
»
More
9
Apr 08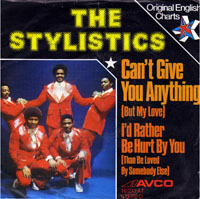 For a song about a guy with empty pockets, this certainly sounds opulent! But its largesse of strings and brass is a little too showy, too ostentatious, at least compared to the understated richness of the sound the Stylistics achieved with Thom Bell. Even if this bling might be fake, "I Can't Give You Anything…" is a fine record: Russell Thompkins Jr's falsetto is as strong and lovely as ever – though sometimes he's having to fight the turbulent backing when he could be soaring over something more sympathetic. That backing, by itself, is also good – arranger Van McCoy taking his delightful horn rhythms from "The Hustle" and beefing them up. The record ends up an intriguing and enjoyable mismatch, still slightly less than the sum of its high-quality parts.
Tom Ewing joins Mark Sinker and Elisha Sessions to discuss Fritz Leiber's "A Pail of Air", written in 1951. It's a short story about a kid, some rugs, and an Earth so cold that helium crawls. Will it crawl onto YOU? Elisha reads from the story in case you haven't.
Next week: Isaac Asimov – "Segregationist".
Some bonus download material for you: and visit poptimists.muxtape.com to hear all twelve of the Pop Open Round 3 songs.
8
Apr 08
Our last two teams take their bow in the second Group D game – two nations with big pop potential: can they realise it? Listen to the tracks, vote in the poll, then click below the cut for managerial comment, analysis, previews and match reports. SPECIAL NOTE: Since we haven't found the Russian manager, thanks a lot to Jessica Popper for stepping in at short notice and giving us a track!
How to vote: Just pick the track you like best and vote in the poll below – this poll ends next Monday morning.
Russia v Spain: Which track do you prefer?
Russia: Oskar 59%

Spain: Camila 41%

Total Voters: 22

Poll closes: 14 Apr 2008 @ 10:00

Loading ...

»
More
So the internets have had a chance to watch the first episode of Season 4 of Doctor Who. And they all seem to be saying the following:
a) Catherine Tate wasn't all that bad*
b) The episode was typical RTD sonic screwdriver fannydangle
c) ROSE!!!
d) BBC marketing genius soft toy for Christmas Adipose fat monsters.
Little has been made of the actual plot being really rather benevolent, in that the diet scheme would have lost a lot of people lots of weight with not apparent side effects at all until the Doctor and Donna (henceforth known as D&D) mucked it all up. Still back to the cute waving Adipose. You can't buy them in stores, but you can get them for a fiver on Ebay. Or at least a knitted version that looks something like it. Here's another one found on Flickr, which is considerably cheaper if you know Chemistry:

»
More
7
Apr 08