Posts from 23rd October 2007
23
Oct 07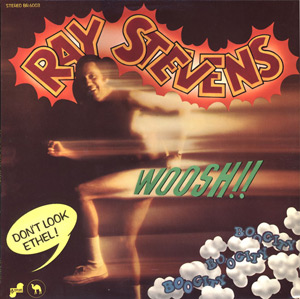 "The Streak" isn't awful as comedy records go, in fact musically it slips down very easily, a perky country number with a few good rhymes for "streak" as its highlight. But not only does Stevens succumb to the blight of the comedy song and shove a laugh track on his record, he also insists on using it for his least funny gag, the laboured hick voice he puts on for the streak-witnesser. Goodwill in shortish supply here.
But anyway, streaking. I was nine years old when Erica Roe streaked and…. actually, I don't remember it at all. Sorry! But I do remember streaking being a "thing", though somehow I assumed it was specifically British – there's something a bit Donald McGill about it, especially as it seems to happen a lot at cricket matches. A little Wikipedia research reveals that not only was I completely wrong but that Ray Stevens was highly topical – Time Magazine had only brought the word to light the year before and by '74 the craze was full-blown. Wikipedia also confirms that streaking is with us still though these days the streakers tend to have the names of insurance websites painted on their backs. Poor show – in the metaphorical sense.
This week's theme is the nineties – as ever, no revealing in the comments box kthx!